Sponsored by Purolator
"Can we postpone the meeting? I am waiting for a delivery," are words I've uttered before. As someone with a home office, who receives several press deliveries and packages from contest partners every week, catching a delivery when it arrives is crucial. If I miss the buzzer, which goes to my phone, I either have to announce to the driver over the loudspeaker "I'm not home right now" and have that echo across the neighbourhood, or I have to wait for the door tag.
Ah, the door tag. The wonderful announcement that my parcel has arrived, but I just can't access it yet. Lucky for me, and you, there's still a way to receive parcels and packages while you're on the go, so you don't need to worry about missing that knock at your door with your latest gift or business delivery!
Purolator Mobile Quick Stop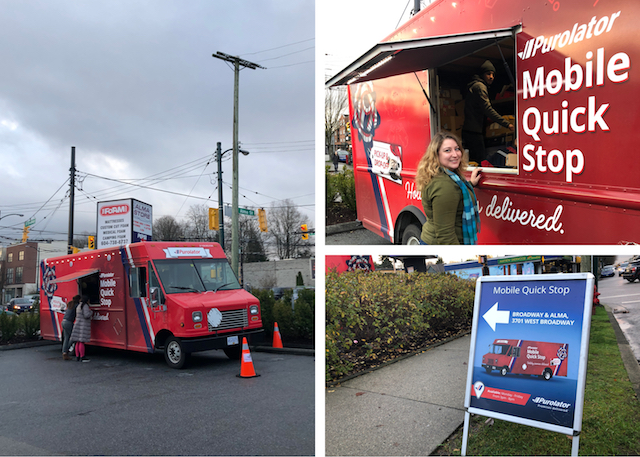 Purolator Mobile Quick Stop has set up in the Greater Toronto Area, Metro Vancouver, Ottawa and Montreal this season to improve the online shopping experience for Canadians. Mobile trucks are serving as a convenient pick-up location for customers with doorknocker notices, as opposed to commuting to a traditional Purolator facility further away.
Where:
3701 West Broadway, Vancouver, BC, V6R 3R6
11666 Steveston Hwy, Richmond, BC V7A 1X3
Coquitlam Centre – 2929 Barnett Hwy., Coquitlam, BC V3B 5R5
Opening December 3rd!
Big Bend Crossing, 5751 – 5821 Marine Way, Burnaby, BC V5J 0A6
When:
Service will operate Monday to Saturday from 3:00pm to 8:00pm now through December 28, 2018.
While you're out and about around Vancouver getting ready for the hustle and bustle of the holidays, Purolator Mobile Quick Stop's convenient locale can give you what you want most – more free time. So, if you're in the neighbourhood picking up a package, take some time to enjoy your newfound freedom by exploring the local holiday delights in and around the Mobile Quick Stop.
Enjoy sushi at the funky spot The Eatery. Famous for funky décor and punchy names, the rolls here can't be beat. Order to go for extra convenience. Stop by Browns Socialhouse for a happy hour drink. Delicious food on a menu that will please the whole family. Grab a coffee and a famous cinnamon bun at Grounds for Coffee – a cute west side café close by Purolator's Mobile Quick Stop in Vancouver.
Last minute gift ideas? Check out 4Cats Arts Studio, for one of their arts and crafts classes – suitable for all ages – and make the perfect gift for someone in your life. Need a little holiday pampering? Try Le Petit Spa, which features massages, waxing, facials and more! Be sure to check out their specials.
For more information, visit Purolator.com to find out where your closest Mobile Quick Stop truck is located.