Everyone is welcome to the kick-off event for Lights at Lafarge in Coquitlam this season! On Saturday, November 24, 2018 join the City of Coquitlam and the community for an exciting evening with two entertainment hubs and the lighting of a dazzling free light displays that encircle the 1.2km Lafarge Lake loop.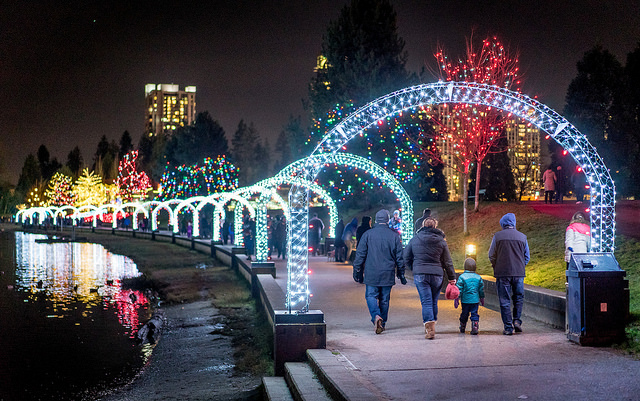 Kick-Off Event for Lights at Lafarge
Dates: Saturday, November 24, 2018 6:00pm to 8:30pm
Where: Lafarge Lake, Town Centre Park (1299 Pinetree Way, Coquitlam)
Admission: FREE!
Enjoy live entertainment on two stages, food trucks, buskers, roving entertainers, family crafts and more!
The TD Community Plaza will feature entertainment from Coastal Sound Music Academy (6:00pm), Gentlemen of Fortune (6:35pm), the official opening ceremony with The Crystal Torch by NZR Productions fire & light show (7:00pm), and the Lesismore Band (7:40pm).
The West Lake Village – Busker's Stage will have Winsome Kind (6:30pm & 7:30pm) and Ukuladies of Lulu Island (7:00pm & 8:00pm). Roving performers like Winter Jester, Lady Neige, Buddy The Elf, and Electric Clowns will add to winter festival atmosphere – and be great for photo ops!
From 5:00pm to 10:00pm grab some grub at Gordo's Concession, Japadog, Betty's Greek Honey Ballz, Roaming Coffee, and Trucking BBQ.
The dazzling light displays that encircle the 1.2 km Lafarge Lake loop are designed into more than 10 zones including a winter lights entry gate, 90-foot caterpillar, woodland garden, outdoor dining table illuminated by a chandelier, fantasy forest with an elfin tree house, lighted woodland creatures, illuminated maple leafs, salmon, floating lotus flowers and giant-sized mushrooms, beehive and flowers.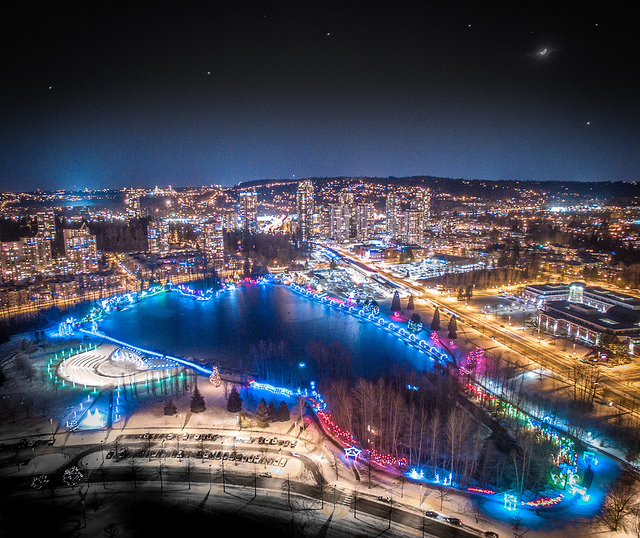 Visitor Tips
Be sure to dress for the dark and for the weather! Late November can bring us rain, wind and snow – make sure you are dressed accordingly. The event takes place entirely outside, so be sure to have warm clothing and waterproof, durable footwear.
Use the site map and entertainment schedule to help plan your time. For the Kick-Off Event, there are two entertainment hubs (TD Community Plaza and West Lake Village) so give yourself time to get to one destination or the other. Enjoy your stroll around the lake and take care to be mindful of all the other visitors.
Keep young family members safe:
Have a plan, spend a few moments showing your kids where the two Information Booths are for a family meeting place if you get separated;
Ensure your child knows your first and last name and cell number;
Always know what your child is wearing and consider including reflective bands on their clothing. Before leaving home, take a picture of your child with your cell phone or digital camera as it will help you remember what they are wearing and /or help staff identify your child.
Limited parking will be available during the Kick-Off Event. Guests are encouraged to walk, bike, carpool or travel by SkyTrain – the Evergreen Extension's Lafarge Lake – Douglas Station provides direct access to Town Centre Park.
Lights at Lafarge Lake 2018-2019
After the opening ceremony and special event on November 24th, Lights at Lafarge Lake will run all season, through to January 20, 2019 with the display illuminating at dusk until 11:00pm, and past midnight on New Year's Eve.
Miss604 is the proud social media sponsor of Lights at Lafarge
Follow Visit Coquitlam on Facebook and Twitter for more information.