I'm not sure I can express how massive – and fun, and dynamic – the Sunshine Coast Art Crawl truly is. Over 3 days this festival transforms the entire coastal region into an interactive art show where 380 artists open up 165 galleries and studios to showcase their creations.
You can browse, shop, do hands-on demos, even craft some make-and-take creations of your own. If you're looking for fibreworks, glass sculptures, ceramics, paintings, distilleries, blacksmithing, you name it – you can plot a course on the free self-guided tour see it all during the Sunshine Coast Art Crawl.
Sunshine Coast Art Crawl 2018
Where: Lower Sunshine Coast, from Langdale to Earls Cove.
When: October 19-21, 2018
Admission: FREE! Artists may have activities in which you can participate for a fee. Otherwise simply bring your cash and cards to shop some of their amazing and unique pieces.
FestivalSeekers has your guide to Sunshine Coast festivals this fall »
Crawlers I've Met
Here are just a few of the participants that I have met over the years, from Langdale to Earls Cove:
Beth Hawthorne Ceramics & This is It Design
Location: 1551 Lockyer Rd , Roberts Creek
See new work by ceramicist Beth Hawthorn and sculptor Robert Studer. Satisfy your curiosity in this compelling design studio and gallery.
Coast Chimes
Location: 535 Woodland Ave, Gibsons
Inspired by nature, Tim Kline uses glass, copper, cedar, driftwood and beach stone to create unique wind chimes, suncatchers and art for the home and garden.
FibreWorks Studio & Gallery
Location: 12887 SC Hwy, Madeira Park
Spinning, weaving, dyeing, basket making, woodworking, papermaking, quilting – all in a beautiful 28' yurt!
Sunshine Coast Olive Oil
Location: 305 – 287 Gower Pt Rd, Gibsons
Visit the oil & balsamic tasting room. Matt's luscious olive oil soaps & lotions. Olive oil chocolate. Nature, community & Canada celebrated through the ArtWorks of Georgia Baker.
Mark Benson Photography, Fine Art Printing & Framing
Location: 307 – 287 Gower Pt Rd, Gibsons
Mark taught me how to take photos from out on the water in the harbour! His fine art photography expresses his inner journey & reflections through long exposure photographs of the Sunshine Coast.
Motoko's Fine Art Gallery & Studio
Location: 4590 Sinclair Bay Rd, Garden Bay
Visiting Motoko's gallery is a special experience, she's always got a pot of tea warming for you to enjoy as you browse her art as well!
These are just 6 of the 380 artisans and artist you can meet October 19-21, 2018 during the Sunshine Coast Art Crawl. For more info, check out my story for FestivalSeekers »
Getting Around
During my latest trip to the Sunshine Coast I spent just $10 in gas for the whole week since I was driving the 2018 Hyundai INOIQ Hybrid from Open Road Hyundai Boundary. With tunes flowing from the Apple CarPlay™ system, touch screen display, ample cargo space (for all the goodies I picked up at the studios, and my suitcase), its smooth handling hugged the rugged zig-zag curves of the Sunshine Coast Highway.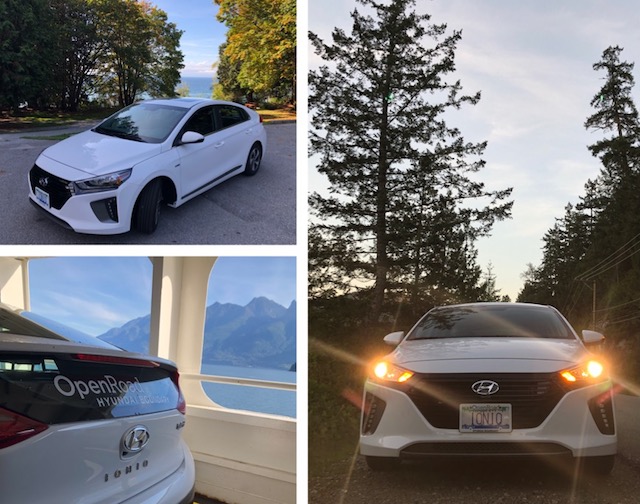 If You Go
Tag #SunshineCoastBC and #ZenSeekers on your travels here and you might be featured on their social media channels.