Join Broomelda at the Haunted Witches Academy before a spellbinding flight at FlyOver Canada Halloween. Aspiring witches and wizards will take part in the Haunted Witches Academy where graduating is easy… just survive! Broomelda welcomes you to the academy before leading you on to the Ultimate Flying Ride.
Indoor Fun at FlyOver Canada Halloween
When: October 11-31, 2018. Weekdays from 4:00pm; Weekends & October 31 all day.
Where: FlyOver Canada (201 – 999 Canada Place, Vancouver)
Tickets: Available online now. Locals save 25% off admission!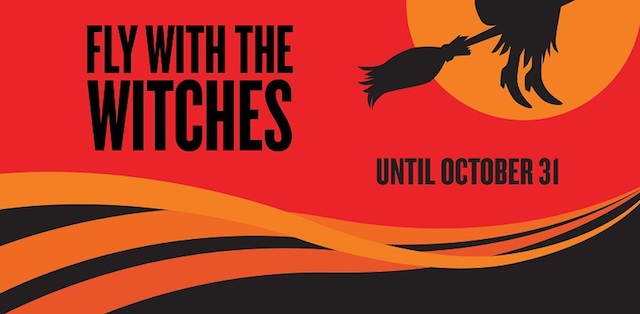 Soar, dip, turn, rush, and experience nature with every breath! FlyOver Canada utilizes state-of-the-art technology to give you the feeling of flight. You will hang suspended, feet dangling, before a 20-metre spherical screen while our film whisks you away on an exhilarating 8-minute journey across Canada, from east to west. Special effects, including wind, mist and scents, combine with the ride's motion to create an unforgettable experience.
For more information about FlyOver Canada, and other upcoming seasonal adventures, follow along on Twitter, Facebook, and Instagram.