Dress for Success Vancouver ("DFSV") will host their 6th annual Success Luncheon on November 14th in order to celebrate the Dress for Success community of sponsors, supporters, ambassadors and champions.
Dress for Success Vancouver's Success Luncheon
When: Wednesday November 14, 2018 from 11:15am to 1:30pm
Where: JW Marriott Parq Vancouver (39 Smithe St, Vancouver)
Tickets: Individual tickets are available for $150. Tables of 10 available for $1,500.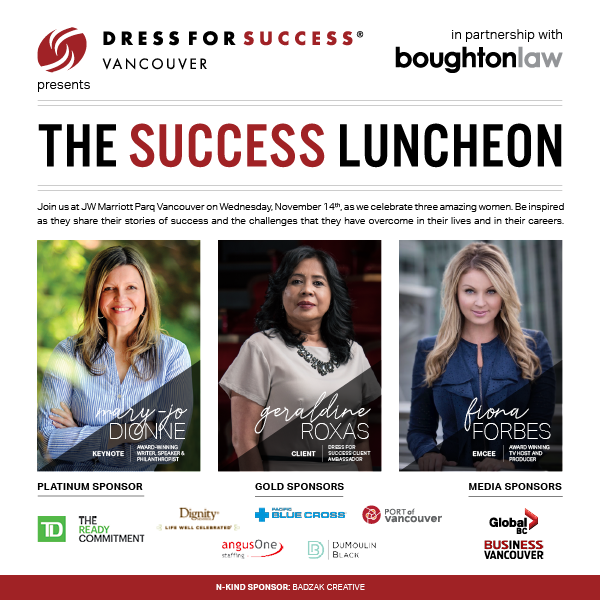 The event will feature speakers Mary Jo Dionne, Dress for Success Client Ambassador Geraldine Roxas and returning to MC the event is Fiona Forbes.
Geraldine will also be awarded the DFSV Inspiration Award, acknowledging her journey and achievements with the support of Dress for Success programs. The Success Luncheon is an annually anticipated opportunity to bring together the organization's corporate supporters and share the work the achievements of the organisation over the past year.
Mary Jo Dionne, this year's keynotes is an award winning writer, speaker and philanthropist. She is a contributor to the Huffington Post, has appeared on CBC, Global TV and is a repeat guest on Vancouver's Breakfast Television. She has openly shared her and her Mother's story overcoming poverty, circumstance and challenges and the frame of mind that led them to success. Her messages are clear and expertly delivered with warmth and humility. Mary Jo has also spoken at Sir Richard Branson's home on Necker Island.
In addition to the keynote and award presentation, guests will networking, meet with speakers and local corporate supporters across sectors and enjoy a plated lunch. Raffles tickets and opportunities to sponsor a DFSV woman will be available.
About Dress for Success Vancouver
Dress for Success Vancouver is a registered charity committed to empowering women into the workforce by providing professional attire, career development tools and a career advancement program. An affiliate of the international organization Dress for Success, DFSV was established in 1999 as the first international affiliate and has served over 30,000 women in the Lower Mainland.
Follow Dress for Success Vancouver on Facebook, Twitter, and Instagram for more info.