Get into the spirit of Halloween by checking out the line-up of Halloween-themed shows taking place at Vancouver TheatreSports.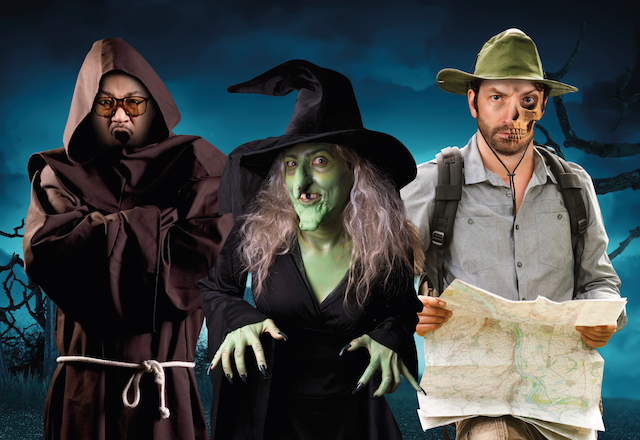 Spooktober at Vancouver TheatreSports
Where: Vancouver TheatreSports, Improv Centre (1502 Duranleau St, Vancouver)
When: Tuesday, October 9 to Wednesday, October 31, 2018
Tickets: Available online
Aptly named Spooktober, this limited-run seasonal celebration of all things eerie features four different shows for a total of eleven 'unboolievably' hilarious weekly performances you'll be 'dying' to see.
Monster Matches
Tuesday & Wednesday at 7:30pm; and Friday & Saturday at 9:30pm
Monster Matches pits teams of monsters against one another in a series of 'head-to-headless' short-form scenarios to see who 'eeeks' the most laughs. Will the werewolves defeat the witches or zombies overcome the vampires? In this fast-paced roller-ghoster, the winner is determined by audience judges.
Cult Fiction – Everyone Laugh Together
Thursday, Friday, & Saturday at 7:30pm
Cult Fiction – Everyone Laugh Together is framed as a documentary. Hosted by an investigative journalist, the players utilize audience suggestions to spin a 'spell-binding' tale behind the cult, including the core cult belief and some of its unique traits. The more ridiculous the suggestions, the more inventive the action and the louder the laughter.
Scared Witless – Creepy Campfire Tales
Wednesday & Thursday at 9:15pm
Scared Witless – Creepy Campfire Tales sees a group of hikers trapped by a storm in a spooky forest. What to do? Inspired by audience suggestions, our intrepid hikers settle in for an evening of telling/acting out ghost stories. The improvisers turn these into 'boo-tiful' comedic episodes. What could possibly go wrong?
WTF – What the Fright!
Friday & Saturday at 11:15pm
WTF – What the Fright! takes its format from our regular late-night show WTF – What the Fun! The show takes some of the more bizarre news headlines found in the media and on social media, and gives them a 'screamingly' funny twist.
If Halloween isn't your thing (and that's truly scary), you can always check out Rookie Night every Sunday at 7:30pm. Rookie Night features graduates of VTS' Improv Comedy Institute who are honing their improv chops before moving on to the main ensemble. This is your chance to see the improv comedy stars of the future before they become really famous and we can't afford them.
During Spooktober, you'll also find 'spooktacular' specials on potions and poisons at VTS' Neil Macrae Bar and Lounge. This is one instance where you'll want to drink the 'Killer Kool-Aid' or indulge in a 'Bloody Caesar'.
For more information, follow Vancouver TheatreSports on Facebook, Twitter and Instagram.