"A Conversation with Ellen" is coming to Rogers Arena on October 19, 2018, and Metropolis at Metrotown has tickets to give away to the biggest Ellen fans in the city! Metropolis at Metrotown is looking for energetic, hilarious, and daring contestants who would love to go see Ellen Degeneres live.
Play Your Way to Ellen at Metropolis at Metrotown
Where: Metropolis at Metrotown's Atrium and Grand Courts
When: Sunday, September 30, 2018. Check-in 12:00pm. Compete 1:00pm to 5:00pm
Admission: Free to participate, free to watch!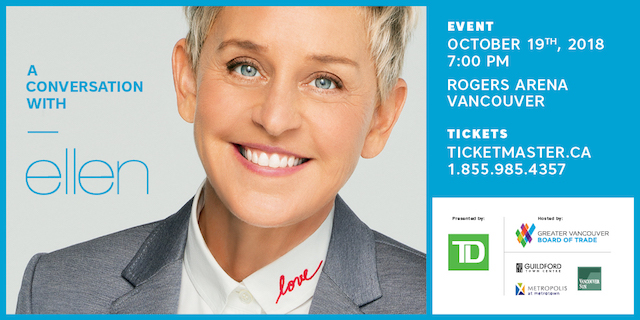 Inspired by The Ellen Show, Ellen fans can compete on September 30, 2018 in Play Your Way to Ellen at Metropolis at Metrotown's Grand Court. 90 lucky contestants will be randomly selected and have the opportunity to play in a series of games to win one of five Ellen Prize Packages. Each Ellen Prize Package includes two tickets to see "A Conversation with Ellen" (each package valued over $600).
Ellen fans who wish to compete at Play Your Way to Ellen must pre-register online through www.metropolisatmetrotown.com by September 25, 2018. Metropolis at Metrotown will randomly select 90 contestants and contact them to confirm their participation by September 26, 2018. All players must be available to physically compete on September 30th at Metropolis at Metrotown's Grand Court from 12:00pm-5:00pm.
For full rules & regulations on how to sign up as a contestant for this event, please visit Metropolis at Metrotown online »
Follow Metropolis at Metrotown on Facebook, Twitter, and Instagram for more information about their shops, services, and special events.