School is back in session and the fun is just getting started at our local farms which will be hosting corn mazes, pumpkin patches, apple harvests, and so much more this season. Check out the following farms for family fun this fall: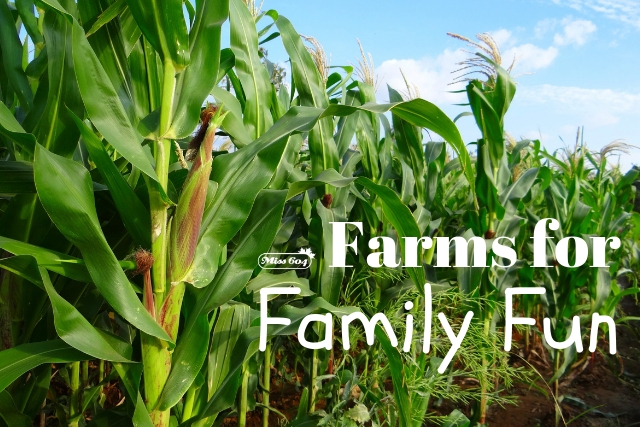 Corn Mazes & Pumpkin Patches Near Vancouver
Some rate apply for admission or activities at these sites.
Willow View Farms
When: U-Pick opening August 17th, 2018
Where: 288 McCallum Rd, Abbotsford
Website | Facebook | Instagram
About: U-pick apples, plums, pears, and pumpkins have become a big part of what we do at Willow View. Visiting the farm provides opportunities to "slow down", and enjoy nature at a leisurely pace, while celebrating the enjoyment of local homegrown food. The goal of Willow View is summed up by our motto: "Our home, your farm".
Maan Farms
When: Open now with a Fall Festival every weekend starting September 22, 2018
Where: 790 McKenzie Rd, Abbotsford
Website | Facebook | Twitter | Instagram
About: Maan Farms offers something for the whole family. Play area and petting zoo, delicious food and wine, event venue, seasonal attractions and of course berries. The beautiful warm colours, brisk fresh air, and fun family activities! Join Maan Farms this fall for their many a-maze-ing family fun activities.
Richard Country Farms
When: Open daily, 9:00am to 8:00pm
Where: 12900 Steveston Hwy, Richmond
Website | Facebook | Instagram
About: Pumpkin pickers ride hay wagons past the duck ponds and waterfalls to the fields. The farm is ornamented with corn stocks, sunflowers whimsical decorations and almost authentic buildings relocated from Transylvania. They offer a fresh BC grown Spartan Apple as a snack at the conclusion.
Bose and Sons Family Farm
When: Open now through October 8, 2018
Where: 64th Avenue & 156th Street, Surrey
Website | Facebook
About: Sit back on a hay bale and savour Surrey's countryside on a tractor-pulled ride from the Bose Corn Maze to the pumpkin patch in search of your perfect Jack-o'-Lantern for Halloween. Their pumpkins weigh anywhere from 5 to 100 pounds. Get lost in the corn, through the many turns and arches, as you answer the trivia questions at each numbered post in the maze. Your answers will lead you, should you go the correct way, to the next numbered post through Bose's two-part maze. Be sure to budget an hour to find your way from the beginning to the end.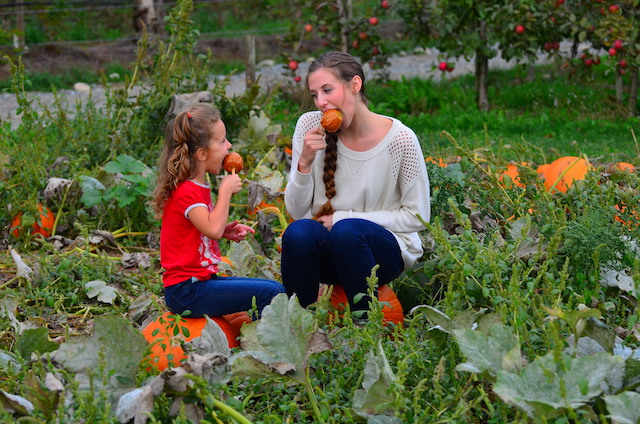 Taves Family Farms
When: Open now through October
Where: 333 Gladwin Rd, Abbotsford
Website | Facebook | Twitter | Instagram
About: Nothing says fall like going into the Pumpkin Patch and choosing your very own pumpkin. While the smaller ones (especially Cinderella and sugar pumpkins) are better for making pumpkin pies, larger ones help kids carve that perfect jack-o-lantern. Our super-size pumpkins average 50 lbs. Taves has so many varieties and colours! The Applebarn and Sunflower Patch are open now.
Chilliwack Corn Maze and Pumpkin Farm
When: Until October 31, 2018
Where: 41905 Yale Road West, Chilliwack
Website | Facebook | Instagram
About: Getting lost at the 12 acre Chilliwack Corn Maze becomes an interactive experience with passports and challenges as you navigate your way around. Visit the pumpkin patch this year. There are over 15 varieties growing on our farm, come and find your perfect pumpkin.
Aldor Acres Farm
When: September 15 to October 31, 2018
Where: 24990-84 Avenue, Langley
Website | Facebook | Twitter | Instagram
About: Numerous animal displays are set up throughout the barns along with a Petting Zoo area outside. New this year are the Pig Races! Races will happen daily at different times throughout the day. After visiting with all the animals, take a tractor-pulled hayride out to the pumpkin patch to find that perfect pumpkin. Don't forget to stop by the Farmacy for your farm fresh veggies, eggs and pork.
Check all of the farm websites and social media to get the most accurate updates about what is in season, opening hours, etc. Have fun!