Support the families of Ronald McDonald House BC & Yukon ("RMH BC") by bringing together your friends and family for good food, great company and an even better cause. Home for Dinner is a community fundraising initiative, which encourages locals to embrace the tradition of connecting with family around the dinner table by hosting a dining event in their home, or at their favourite restaurant.
Home For Dinner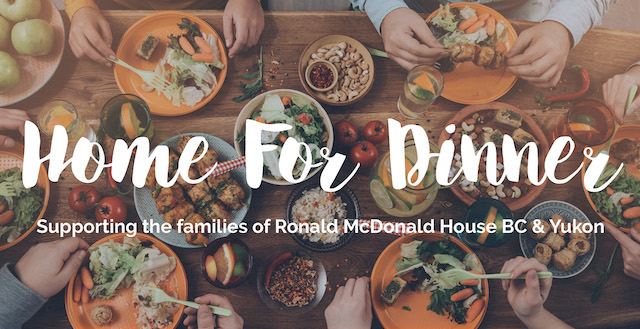 Eat In
Prepare a meal in your home and invite your favourite people over. Instead of bringing wine or a hostess gift, your guests can contribute to something even more meaningful – keeping a family close when it matters most.
Dine Out
Host a meal at your favourite restaurant or dining spot. As a thank you for your generosity in picking up the tab, your guests can contribute something even more meaningful, supporting the families who are staying at RMH BC that night.
All funds raised will go towards families staying at Ronald McDonald House in Vancouver, ensuring they benefit from a supportive and healing environment while their child or children undergo life-saving medical treatments. Each generous donation will ensure a family can continue to share meals and moments together at Ronald McDonald House BC while their child receives life- saving medical treatment. Large or small, the possibilities are endless!
Register your dinner today and truly make a difference »
Share your experience using #HomeForDinner on social media and follow Ronald McDonald House BC & Yukon on Facebook, Twitter, and Instagram for more info.