Burnaby Heights is setting the table for this year's Crave the Heights. 10 of the Heights' restaurants invite friends, family, and foodies to take part in a delicious neighbourhood dining showcase from August 17 to 26, 2018. Discover some of the best restaurants that Burnaby has to offer with affordable set menus, new food specials, happy hour food, and drink discounts.
Crave the Heights: Chez Christophe
Participant: Chez Christophe Chocolaterie Patisserie
Location: 4717 Hastings St, Burnaby Heights
Chez Christophe is celebrating the culinary community of Burnaby Heights with a special menu for Crave the Heights this year. From August 17 to August 26, customers are invited to visit and enjoy two blueberry and coffee creations – an Iced Brew-berry Coffee paired with a Blueberry Coffee Choux pastry.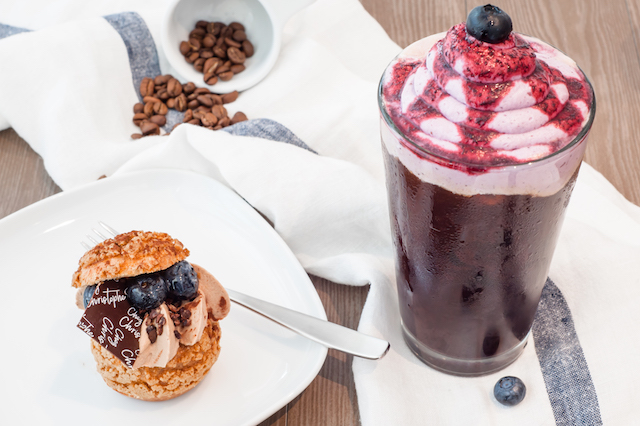 "We have been participating in Crave ever since we opened five years ago," says Christophe Bonzon, owner and pastry chef of Chez Christophe Chocolaterie Patisserie. "It is a great showcase of what Burnaby Heights has to offer with special menus from restaurants, bakeries, and dessert places. We have such a vibrant and diverse community here – that is why we love being in the Heights. There is definitely something for everyone."
Chez Christophe is highlighting the flavour combination of blueberries with coffee. The Iced Brew-berry Coffee ($5.95), crafted by head barista Lailla Ahmed, features custom cold brew coffee muddled with housemade blueberry syrup, and topped with a fresh BC blueberry whipped cream and drizzle.
The limited edition Blueberry Coffee Choux is made with a BC blueberry confit, coffee monte, and caramelized cocoa nibs in choux pastry. Customers have a choice to try both for $9.95. Chez Christophe uses Pallet Coffee Roasters coffee.
With set menus, food specials, or happy hour options, there is something to satisfy everyone here on the Heights. View a full list of participating Crave the Heights restaurants here »
Follow Burnaby Heights on Facebook, Twitter, and Instagram for more information about Crave.
Miss604 is a proud sponsor of Crave the Heights