Bike the Night, presented by MEC, is a relaxed and colourful 10km ride through car-free Vancouver streets. Streets will be opened so that thousands of riders can experience the city's most iconic roadways after dark. Deck out your bike in lights and spread good cycling vibes with over 5,000 other riders of all ages on this slow roll.
Bike The Night: BC's Largest Night Ride
Where: Concord Pacific Place
When: Saturday, September 15, 2018. Festival 6:00pm to 8:00pm; Ride 8:00pm
Registration: Open now online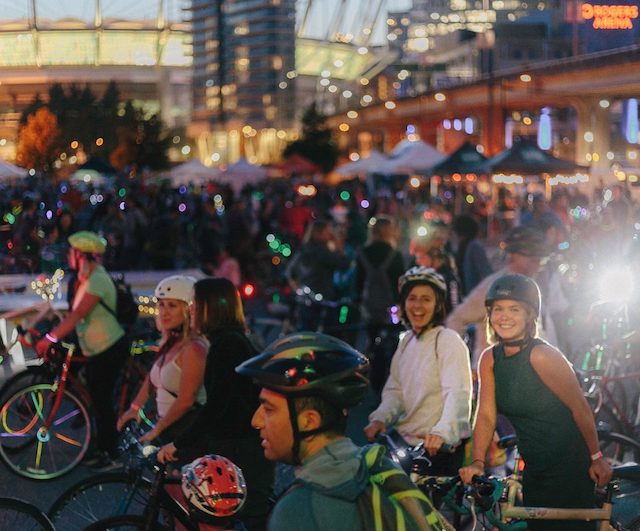 Register before August 31st and be entered to win a Garment Pannier courtesy of Two Wheel Gear. Groups of 10 or more receive the special Early Bird Rate ($7.50) until August 31. Email events(at)bikehub.ca for more information. Bundle your ticket with a HUB Membership and get 50% off your ticket as well as great benefits like discounts at bike shops, deals on car sharing and invites to events.
Signing up to ride supports HUB Cycling, a registered charity that has been working for 20 years to remove barriers to cycling and improve our communities, our health and our environment. Registration also includes entry to the pre-party with a DJ, free bike tune-ups and decorating, food trucks, a kids zone, and tons of awesome giveaways.
Those registered will receive a free 24 hour pass from Mobi by Shaw Go for the event, and will also be entered to win the grand prize MEC Origami LTD Folding Bicycle.
Follow HUB Cycling on Facebook, Twitter, and Instagram for more info about #BiketheNight and other upcoming events.