Contributed by Lisa Kadane for FestivalSeekers
Summer at Sun Peaks Resort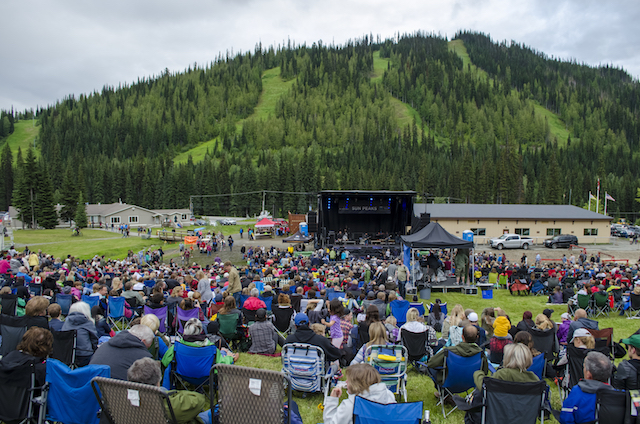 Just a four-hour drive from the lower mainland, Sun Peaks Resort has long drawn Vancouverites for skiing and riding every winter. When the seasons change, mountain views, wildflower trails, lively patios and weekend events turn the resort into a summer playground where adventure meets culture. Here's how to make the most of Sun Peaks' festival season.
Check out how Sun Peaks kicked off a rockin' summer »
Adrenaline thrills on two wheels
Try downhill mountain biking on Sun Peaks' 40 trails that range from gentle descents to white-knuckle technical drops. Access the 2,000 feet of vertical with a day pass and chairlift ride, or watch the pros scream down the trails during the BC Downhill Championships and BC Cup July 7-8, 2018.
Hike the alpine
Lift-access hiking is the best way to get above tree line to see the profusion of wildflowers that bloom between mid-July and mid-August. Tackle over 30 kilometres of trails that range from easy loops to steep ascents. Canada's Alpine Blossom Festival takes place July 28-29 and celebrates this natural phenomenon with organized hikes and helicopter tours to see the carpet of blooms from the air.
Sun Peaks Summer Concert Series
Sun Peaks' Summer Concert Series kicked off June 30th with Big Sugar and continues in July and August, with bands performing in various locations around the village. All shows are free.
July 20-22, 2018: Summer Patio Party. Wander from patio to patio sipping a bevvy and listening to a different band at each bar, from The Decoys to Red Eye Empire.
August 10-12, 2018: Retro Concert Weekend. Tribute bands play the hits of the Rolling Stones, AC/DC, Elvis, The Beatles and more on the main stage and at smaller venues around the village.
August 25-26, 2018: Music in the Mountains. Don't miss performances by Dan Mangan and Bedouin Soundclash as the Summer Concert Series wraps up.
Shop the market
Sample local produce, indulge in fresh-baked goodies and sip regional wine during Market Day, which happens along the village walk every Sunday from 9:30am to 1:30pm during July and August. You can also shop for jewelry, quilts, ceramics and blown glass, all created by local artisans.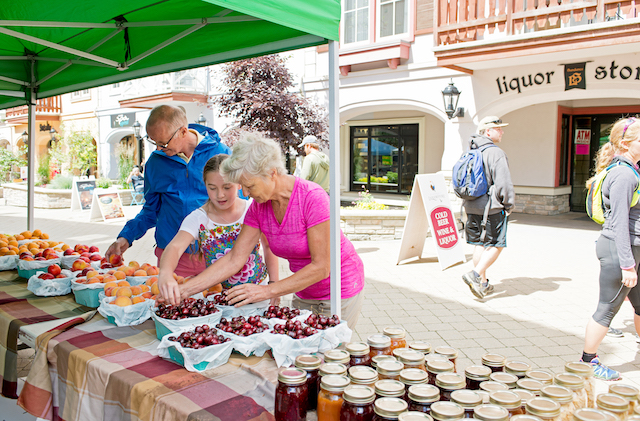 Happy hour hot spot
It's bottoms up every afternoon at the lively Bottoms Bar & Grill, which has happy hour deals on pints and summer sippers like the Moscow Mule. Located right at the base of the hill where all the summer action unfolds, it's the best patio for people watching.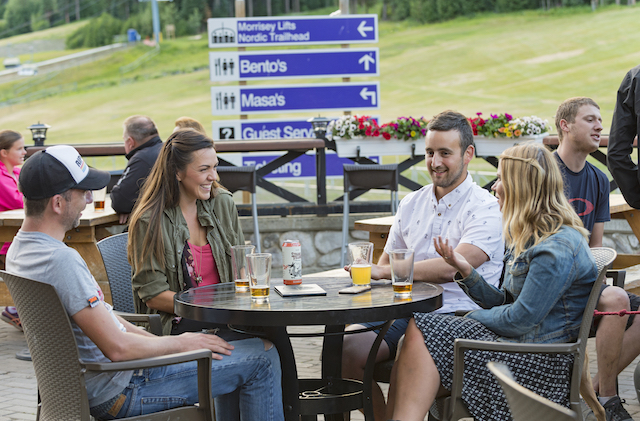 Cheeseburger in paradise
Be sure and eat at least one meal at 5Forty Café & Grill. This casual spot makes to-die-for burgers including one with feta cheese and another with red onions, bacon and cheddar. If meat's not your jam, fill up on eggwiches or bagel sammies.
Where to crash
Check in to Nancy Green's Cahilty Hotel & Suites for a peaceful slumber in a traditional room, studio or multi-room unit with a full kitchen. Its village location makes it a great base for exploring, and the outdoor hot tub is a welcome respite for sore muscles after golfing, horseback riding, canoeing, fly fishing… you name it.
Grab accommodation at Sun Peaks Resort for as low as $119 per night. Book online now »
Getting to Sun Peaks
An easy drive east from Vancouver on Hwy. 1 to the Coquihalla up to Kamloops, then a scenic elevation gain on Tod Mountain Road/Heffly Louis Creek Road, will get you to your mountain destination in just over four hours.
Mark Your Calendars
The Alpine Blossom Festival, with hikes above tree line to see the wildflowers, takes place July 28-29, 2018.
The 9th annual Retro Concert Weekend returns August 10-12, 2018 with performances by tribute bands.
Music in the Mountains comes to Sun Peaks August 25-26, 2018, with headliners Dan Mangan and Bedouin Soundclash.
Book your accommodation online now »
Read more about Sun Peaks on FestivalSeekers.com »