Cameron Mackintosh's acclaimed production of Alain Boublil and Claude-Michel Schönberg's Tony Award-winning musical phenomenon, Les Miserables is on stage now in Vancouver! I sent Fran Martin to opening night and she texted me at intermission offering a rave review already. Here are her thoughts on the show:
Review of Les Miserables in Vancouver
Although I had seen Les Miserables before, there was something about last night's performance that outshone all others. It really blew me away.
Thenardier and his wife were hilarious (J. Anthony Crane & Allison Guinn) and the backdrops were even more amazing.
I was impressed by the special effects, such as the moving sewers as Jean Valjean (Nick Cartell) carried/pulled Marius (Joshua Grosso) and how the fall of Javert (Josh Davis) was executed – so well in fact that it actually gave the impression of depth.
By the end of the Finale, there was not a dry eye in the entire theatre. The singing was so powerful, it drew out all emotion. Can you tell I loved it? We didn't want it to end!
Fran wasn't alone, with City TV's Thor Diakow taking to Twitter to say: "'Look down! Look down!' Les Misérables will be stuck in my head all day. Incredible show last night and @nickcartell's Jean Valjean is astounding. Never seen such a quick standing ovation. A MUST SEE!'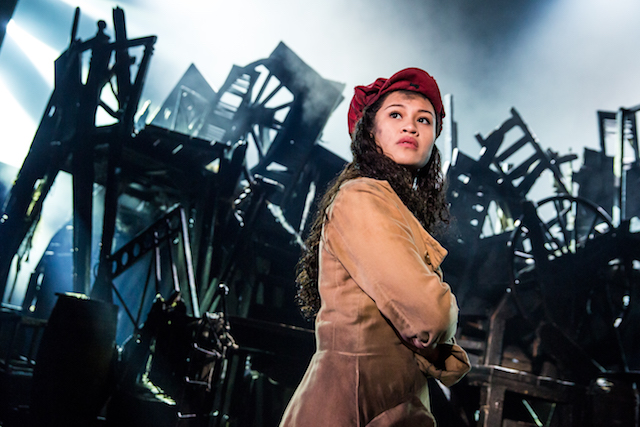 Seen by more than 130 million people in 44 countries and in 22 languages around the globe, Les Misérables is still the world's most popular musical, breaking box office records everywhere in its 32nd year. Catch it in Vancouver at the Queen Elizabeth Theatre (630 Hamilton St, Vancouver) until July 15, 2018.
Purchase tickets online through Ticketmaster or call 1-855-985-5000. Group orders of 10 or more may be placed by calling 1-800-889-8457. Broadway Across Canada Subscribers can visit BroadwayAcrossCanada.ca or call 1-866-542-7469. Ticket prices start at $30.50.
Follow Broadway Across Canada on Twitter and Facebook for more information about their shows coming to Vancouver in 2018-2019.