Early Music Vancouver ("EMV") proudly presents the return of the Vancouver Bach Festival, July 30 – August 10, 2018 at Christ Church Cathedral in the heart of downtown and the Chan Centre for the Performing Arts at UBC.
Since its inaugural iteration in 2016, the festival has grown to offer a remarkable 15 concerts ranging from intimate chamber music programmes to concerts featuring full orchestra, soloists, and a choir. This year's festival includes performances by many of the top west coast artists specializing in period performance, as well as by gifted artists from all over Europe.
Early Music Vancouver Presents:
Vancouver Bach Festival
When: July 30 to August 10, 2018
Where: Christ Church Cathedral (690 Burrard St)
& The Chan Centre at UBC (6265 Crescent Rd)
Tickets: $10 to $68 available online or by calling (604) 822-2697. Enjoy any four concerts at the Vancouver Bach Festival for the price of three. Purchases of more than four concert packages will also receive a 25% discount.
View the full schedule of performances online here »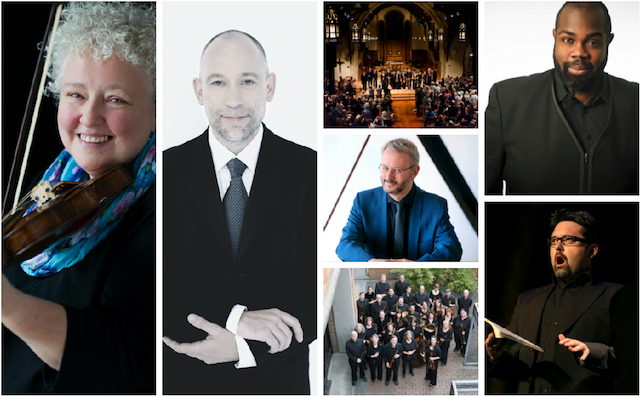 Win Passes
I have a pair of tickets to give away to the following shows:
Musica Transalpina: Vivaldi to Bach with Reginald Mobley, Pacific MusicWorks
Thursday, August 2, 2018 at 7:30pm (Pre-concert talk 6:45pm)
Praised for his "crystalline diction and pure, evenly produced tone" (Miami Herald), countertenor Reginald L. Mobley makes his highly-anticipated Vancouver return, performing with musicians of Pacific Musicworks and led by revered GRAMMY Award-winning lutenist and conductor Stephen Stubbs. Featuring a rarely-performed dramatic cantata by Antonio Vivaldi – Cessate Omai Cessate, as well as one of J.S. Bach's most beloved solo cantatas – BWV 82 / Ich Habe Genug, audiences will be spellbound by the beauty of Mobley's voice and charmed by the warmth of his personality.
Bach Cantatas – Actus Tragicus
Friday, August 3, 2018 at 7:30pm (Pre-concert talk 6:45pm)
EMV is delighted to welcome Switzerland's celebrated ensemble Gli Angeli Genève back to Vancouver to perform a selection of Early Cantatas by J.S. Bach (BWV 4, 131 and 106), as well as G.P. Teleman's masterpiece Du Aber Daniel. Led by renowned baritone Stephan MacLeod, Gli Angeli Genève is an ensemble of soloists that performs vocal and instrumental repertoire of the renaissance, baroque and classical periods on stages the world over. They are widely considered one of Europe's top ensembles specializing in Bach's sacred music.
Bach, Beethoven and Brahms
Wednesday, August 8, 2018 at 7:30pm (Pre-concert talk 6:45pm)
Bach, Beethoven, and Brahms have been considered the backbone of the Classical canon since the late nineteenth century. Baroque violinist Monica Huggett and fortepianist Byron Schenkman explore some of those composers' most beloved works, using instruments and playing styles appropriate to the time when that canon was being established, including Early Music Vancouver's magnificent 1870 Broadwood piano. The programme includes Bach's great Chaconne in D minor for solo violin.
Francois Couperin – Leçons de Ténèbres
Thursday, August 9 at 7:30pm (Pre-concert talk 6:45pm)
In celebration of Francois Couperin's 350th anniversary, this programme includes his sumptuous trio sonata L'Impériale and a complete performance of one of the masterpieces of French baroque music, his surviving three Leçons des Ténèbres, for two sopranos, viola da gamba and basso continuo.
Bach – Trauer Ode (BWV 198) and BWV 146 at the Chan Centre
Friday, August 10 at 7:30pm at the Chan Centre (Pre-concert talk 6:45pm)
Vancouver's own Alexander Weimann leads the PBO and the soloists of Gli Angeli Genève in a dramatic reading of one of Bach's greatest works of mourning, the Trauer Ode. Bach composed this large-scale secular cantata for orchestra and soloists in 1727 to commemorate the death of Christiane Eberhardine, the wife of Augustus, the Elector of Saxony and King of Poland. It is unusually richly scored, even for Bach, and includes not only pairs of flutes and oboes d'amore, but also of violas da gamba and lutes in addition to a full string orchestra. This great work will be performed alongside another masterpiece by Bach, his cantata BWV 146 – Wir müssen durch viel Trübsal.
Here's how you can enter to win:
Leave a comment on this post (1 entry)
Click below to post an entry on Twitter
[clickToTweet tweet="RT to enter to win a #VanBachFest multi-show ticket pack @earlymusicvan http://ow.ly/XLKy30l8wTa" quote=" Click to enter via Twitter" theme="style6″]
Follow the Vancouver Bach Festival & Early Music Vancouver on Twitter, Facebook, and Instagram for more information.
I will draw one winner at random from all entries at 12:00pm on Wednesday, August 1, 2018
Update The winner is Angela M!