Free lunchtime concerts return to CBC Vancouver this summer for the 9th annual CBC Musical Nooners! Join the fun all summer long.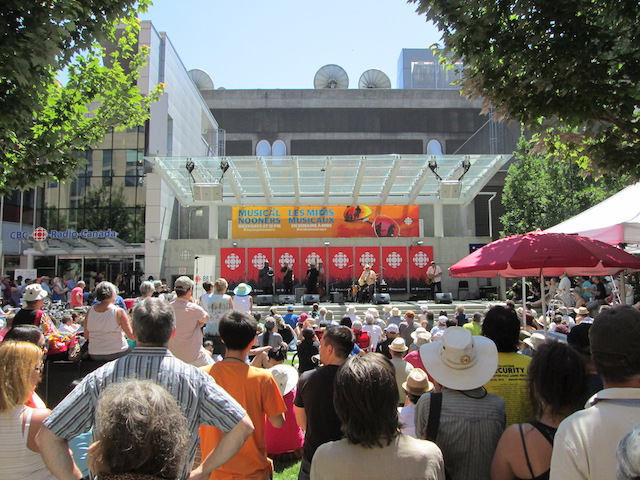 CBC Musical Nooners
Where: CBC Vancouver Outdoor Stage and Plaza (700 Hamilton St)
When: July 10 – August 17 weekdays, 12:00pm to 1:00pm
Admission: FREE!
Opening day, July 10th, will be a celebration of Indigenous culture. Lift your spirits with the passionate and soulful music of Mob Bounce, a northwest coast Native hip-hop duo comprised of The Northwest Kid (Gitxsan) and EarthChild (Cree/ Metis). Mr. Bannock, an Indigenous food truck will also be on hand to feed hungry concert attendees.
Here's what else is in store this year:
Tuesday, July 10, Mob Bounce
Wednesday, July 11, Son de Madera
Thursday, July 12, Jimmy "Duck" Holmes
Friday, July 13, Little Miss Higgins
Monday, July 16, Winsome Kind
Tuesday, July 17, Jack Garton and the Demon Squadron
Wednesday, July 18, Haley Blais
Thursday, July 19, Dawn Pemberton
Friday, July 20, Rumba Calzada
Monday, July 23, Adam Robert Thomas
Tuesday, July 24, Portraits of Us
Wednesday, July 25, Fallbrigade
Thursday, July 26, The Long War
Friday, July 27, Jen Hodge All Stars
Monday, July 30, Old Soul Rebel
Tuesday, July 31, Sinclair & Bennett
Wednesday,August 1, Will Stroet
Thursday, August 2, Lonesome Town Painters
Friday, August 3, Tanga
Monday, August 6, BC Day No Concert
Tuesday, August 7, Petunia and the Vipers
Wednesday, August 8, David Ward
Thursday, August 9, Roy Forbes
Friday, August 10, Schwey
Monday, August 13, Desirée Dawson
Tuesday, August 14, Caleb Hart
Wednesday, August 15, Sister Speak
Thursday, August 16, Wooden Horsemen
Friday, August 17, Coco Jafro
View the full lineup here »
For more information on the Musical Nooners series and CBC in British Columbia follow along on Twitter or with the tag #musicalnooners.