Surrey Fusion Festival, presented by Coast Capital Savings, is introducing 14 new cultural pavilions in 2018, once again making it the largest multicultural celebration in BC!
Up from 39 pavilions in 2017 to 53, this year's expanded festival—taking place Saturday, July 21 & Sunday, July 22 at Holland Park—welcomes first time participants Albania, Argentina, Brazil, England, Guatemala, Greece, Haiti, Hong Kong, Japan, Kazakhstan, Korea, Portugal, Sri Lanka and Venezuela.
Surrey Fusion Festival
Where: Holland Park (13428 Old Yale Rd, Surrey)
When: Saturday, July 21 & Sunday, 22, 2018 11:00am to 10:00pm
Admission: FREE! You can also purchase food tickets $1 each.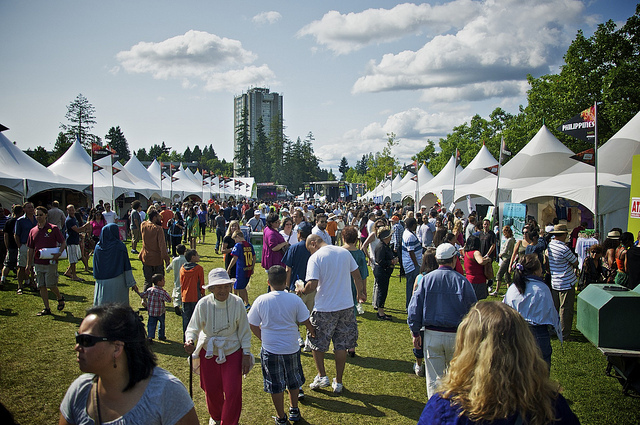 It's one of my favourite cultural events of the year! If you haven't been before, here are 5 reasons to attend Surrey Fusion Festival this weekend:
1. The theme for this year's festival and cultural showcases is influential women. Participants will celebrate inspiring or influential women and the contributions they have made to their culture through displays of music, art and crafts. First, second and third place for Best Dressed Pavilion will be awarded to the most impressive exhibitions.
2. The festival's Indigenous Village returns to offer education on Indigenous culture through music, food, art and live performances. It will feature traditional installations, including a West Coast longhouse and carved cedar canoe archway, Métis trapper tents and teepees. Attendees can also enjoy contemporary music, traditional West Coast Indigenous music and dance, powwow performances, fiddling and jigging, a Métis pavilion, First Nation and Métis artisans, carving demonstrations, Sto:lo bannock and various desserts by the Bannock Queen.
3. Surrey Fusion Festival has been named Best Festival at the Regional Canadian Event Industry Awards in 2017 as well as the Best Festival at the annual Special Event Magazine Gala Awards competition on January 10, 2014 in Nashville, Tennessee. This celebration of worldwide culture is internationally recognized for being awesome!
4. This year's event will welcome over 150 performers, including headliners Walk Off The Earth on Saturday, July 21 and Ranjit Bawa on Sunday, July 22. Additional performers include alternative-soul group The Boom Booms, reggae surf-rock band John Welsh & Los Valientes and Brazilian capoeira performers Aché Brasil. Also appearing is world-renowned environmentalist Ricky Kej live in concert featuring the Surrey Orchestra.
5. Did I mention it's FREE to attend?! It's also easy to get to from either King George SkyTrain or Surrey Central SkyTrain.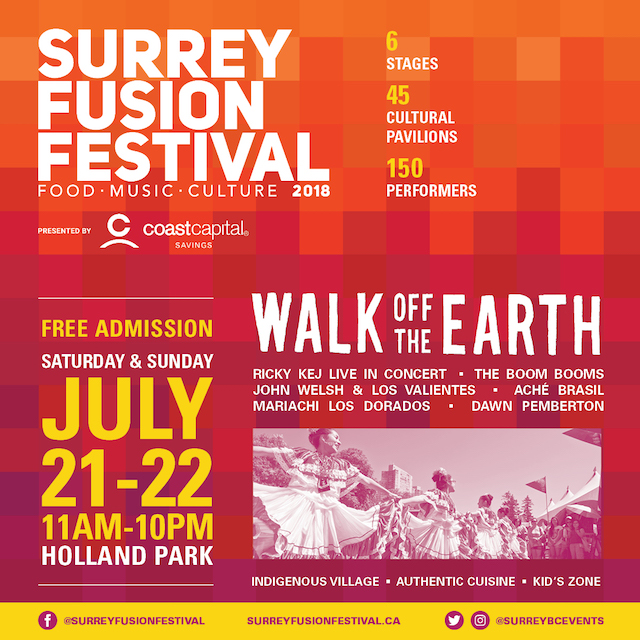 Follow Surrey Fusion Festival on Facebook, Twitter, and Instagram for more information. Miss604 is a proud media partner of Surrey Fusion Festival