The finalists have been chosen for our Petcurean's Uplift the Underdog!
Earlier this season, local rescue centres in BC were encouraged to nominate a deserving pup and now between June 11 & 17, 2018, you can vote for which deserving rescue dog you want to win a lifetime supply of Petcurean dog food. The winner will also receive a 500lb donation of pet food to the shelter or rescue group and the opportunity to be included in a future marketing campaign.
Petcurean's Uplift the Underdog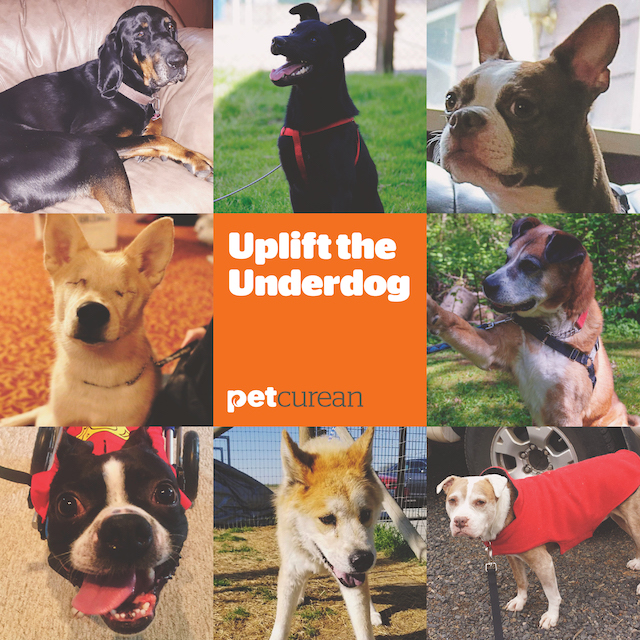 Voting is now open via Petcurean's Facebook and Instagram accounts. You also have the chance to win simply by voting! Three randomly-selected voters will each win a 25lb bag of any Petcurean recipe of their choice (open to Canadian and US residents only).
Finalists:
Lulu:
10 yrs old going on 2, she's a massive bundle of energy who's been waiting 4 years to find her forever home.
Cranston:
An old dog that still has a few tricks, a love bug who'll be an amazing, fun companion if you look past his age.
Floyd:
This gentle giant has overcome a mountain of hurt and has a mountain of love to give to you.
Clutch:
Don't let the wheelchair fool you! He'll race in and grab your heart if you let him.
Ali Larter:
Blind – yes. Does it stop her – NO! Energetic and full of love – heck yes!
Mia:
Beauty is in the eye of the beholder and Mia knows her forever family will see the true beauty inside her.
Buckley:
He's overcome digestive challenges, now his only challenge is to find his forever home.
Asher:
His sweet and gentle nature triumphs over his allergies and signs of an abusive past.
All eight finalists will receive a year's supply of Petcurean dog food, free doggie grooming, 500lb donation of pet food and a Petcurean gift basket filled with supplies, toys and more.
The dog that receives the most comments and likes over one week will be awarded the grand prize of a lifetime supply of Petcurean dog food.
You can participate and help raise awareness of the need to adopt "underdogs" who are traditionally less likely to get chosen due to age, appearance, or other issues. Let's look beyond these so-called imperfections and focus on the amazing heart and spirit of the dogs, so they can find the loving homes they deserve.
Follow Petcurean on Facebook and Instagram for more info and to cast your vote.