Discover the stories of an LGBTQ2+ community that fought back! Local walking tour company Forbidden Vancouver has launched a brand new walking tour in partnership with the Vancouver PRIDE Society. The Really Gay History Tour takes guests from downtown to the historic Davie Street Village to discover the stories, landmarks, and icons of Vancouver's LGBTQ2+ community.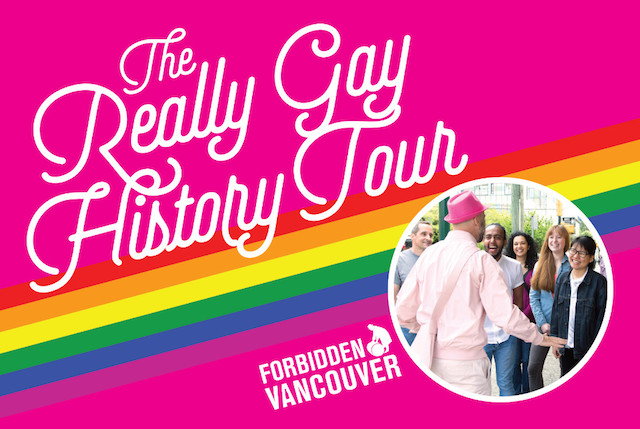 The Really Gay History Tour
When: Sundays at 2:00pm, July to November
During Vancouver PRIDE the walking tour runs every day between July 22 and August 4.
Tickets: Buy online or call (604) 227-7570. Suitable for ages 14+.
Where: Meet outside the entrance to Vancouver City Centre SkyTrain station on W Georgia. The tour ends at Jim Deva Plaza on Davie Street, near a multitude of bars and restaurants to choose from for a post walking tour cocktail.
2018 marks the 40th Anniversary of Pride in Vancouver
Guests will visit the sites of police raids, bookstore bombings, the "Kiss-Ins" of Granville Street, Imperial Court coronations, and the gayest beer parlour in town. It's a 2.5 hour long adventure into the stories of a community that fought back against oppression, police brutality and media hate campaigns to make Vancouver today one of the most queer friendly cities in North America.
The path followed by the walking tour takes in many of the city's most loved landmarks, including the Art Gallery, the Hotel Vancouver, Granville Street, St. Paul's Hospital, Nelson Park, the tree lined West End, and the Davie Street Village. Guests will visit Jim Deva Plaza and walk the famous rainbow crosswalk.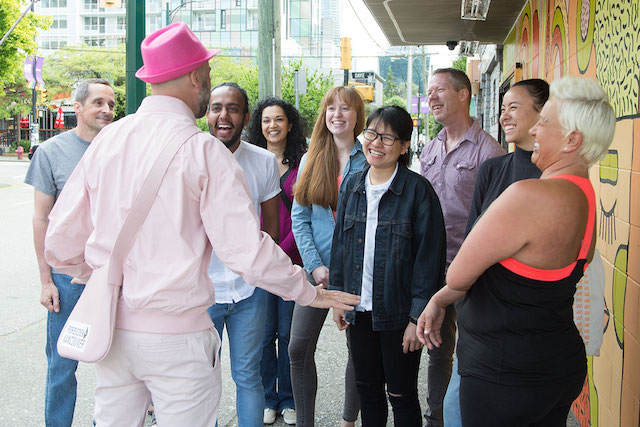 Each stop on the tour has a special place in the history of queer rights in Vancouver, from the stories of homosexual trials in the former courthouse, to the very first secret gay bars of Granville Street, to the tale of the GRID crisis at St. Paul's.
The walking tour was researched and developed by Forbidden Vancouver storyteller Glenn Tkach, with support from company founder Will Woods. Dressed head to foot in pink, Glenn cuts a dashing figure as he leads groups along bustling downtown streets:
"The tour covers some dark history, including the persecution of queer people by government agencies and police right into the 1990s. But overall the experience is a celebration, not just of our community's success in achieving equality, but a celebration of the brave people who fought back against a hostile society, whatever the consequences."
Follow Forbidden Vancouver Tours on Facebook, Twitter, and Instagram for more information.