Three local authors will be at Book Warehouse for Suburbia Takes on Main Street to talk about their individual novels that all feature suburbs of Vancouver. Miss604's own Michelle Kim will be reading from her book Running Through Sprinklers (set in Surrey); Charlie Demers will read from Property Values (set in Coquitlam); and Sam Wiebe will read from Cut You Down (set in Burnaby).
Suburbia Takes on Main Street
Where: Book Warehouse Main Street (4118 Main St, Vancouver)
When: Tuesday, June 12, 2018 from 7:00pm to 9:00pm
RSVP to the Facebook event here »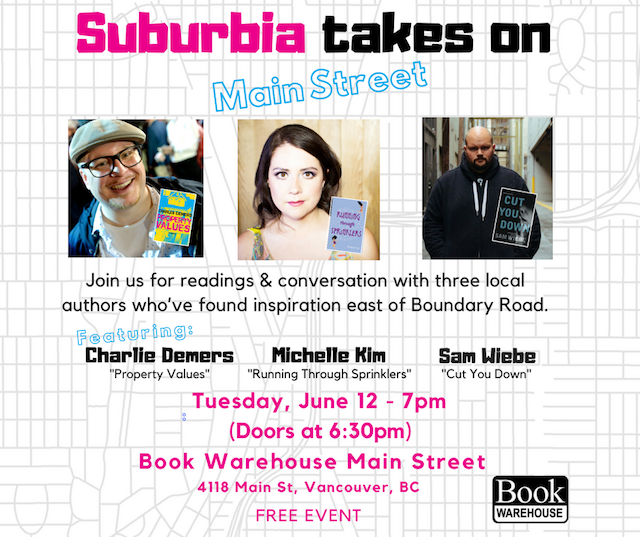 Michelle Kim – Surrey
Running Through Sprinklers
About the book: "Two life-long best friends grow up and begin to grow apart in this honest, deeply felt middle grade debut. It's only ever been the two of them. Two halves of the same person. Best friends forever—until they aren't. Everything has changed this year. Nadine has suddenly skipped a grade and gone to high school without Sara. No matter how hard she fights to save their friendship, Sara can feel it slipping away. But change can happen from the inside, too.

The forever-friend days of running through sprinklers and slurping up ice cream cones may be over. Yet in their place, Sara just might discover something new and wonderful: herself."
Charlie Demers – Coquitlam
Property Values
About the book: "As a shaky truce between suburban gangsters starts to unravel, schlubby civilian Scott Clark has other things on his mind: if he can't afford to buy out his former father-in-law, Scott's about to lose the only house he's ever called home. In Vancouver's red-hot real estate market, he doesn't have a chance–until he and his best friends take the last-ditch measure of staging a drive-by shooting on the property to push down the asking price. But when Scott's pretend gangland stunt attracts the attention of real criminals, his make-believe crew soon finds itself in the middle of a deadly rivalry.

With wicked humour and a brilliant cast of desperate characters, Property Values explodes the crime novel genre while exploring the absurd lengths to which a man will go to in order to hold onto his home in today's market."
Sam Wiebe – Burnaby
Cut You Down
About the book: "Vancouver PI Dave Wakeland returns, hot on the trail of a missing college student who may or may not have stolen half a million dollars. What starts as a straightforward runaway case soon gives way to a tangled mess of dirty money, betrayal, and murder, pitting the resourceful but over-his-head detective against suburban gangsters, a corrupt cop, and a contract killer with a fondness for blades–one of which seems destined for Wakeland's throat…

Sam Wiebe's morally challenged young detective takes up a cross-border chase that twists and surprises like only Vancouver's next master of crime could write. Never one to back down from the big issues plaguing his city of shining towers and forgotten corners, Wiebe returns with a vicious caper that threatens to leave no one–not his rogue detective, nor Wakeland's family and friends (or even a few of his enemies)–standing."
Check out these three local authors and find out why they chose to write about life east of Boundary Road on June 12th.