The Kitsilano Showboat returns for its 83rd season of free entertainment in Vancouver, running every Monday, Wednesday, Friday and Saturday from June 18 to August 18. Since 1935 this summer staple has featured musical acts, plays, and dancers all near the pool at Kitsilano Beach.
Kitsilano Showboat
Here are just a few of the performances, which take place at 7:00pm unless otherwise noted:
Monday, June 18, 2018
Season Opening Night
Friday, June 22, 2018
Dance to the Beat of Greece
Wednesday, June 27, 2018
Multicultural Day with Joyce Murray MP, Karima Essa's Bollywood Star Dance, Bright Sunset Chinese Dance Group
Friday, June 29, 2018
Hunter J and the Jets then Canada Day Birthday Cake
Friday, July 7, 2018
Khatsahlano Days and Kalaya's Polynesian Dancers
Monday, July 16, 2018
Heart & Sole Richard Lowy
Friday, July 27, 2018
MaiTai Friday at Kitsilano Showboat
Wednesday, August 1, 2018
Fireworks Night
Saturday, August 11, 2018
Bathtub Races then Rock Paper Moon, Ache Brasil Students
Saturday, August 18, 2018
Closing Night: Benny and the Good Men, Closing Ceremonies, Prize draws
Click here to see what will be on every Monday, Wednesday, Friday & Saturday »
Performers include The Vancouver Concert Band, West Vancouver Adult Concert Band, 6oh4 Band, Diamond Country Dancers, D'Hercy Dance Company Youth Dancers, Sea to Sky Wind Ensemble, Vancouver Performing Stars, Stave Falls Scottish Dancers, Vancouver Argentine Tango, Sambacouver, Burnaby International Folk Dancers, Top Line Vocal Collective… and many, many more!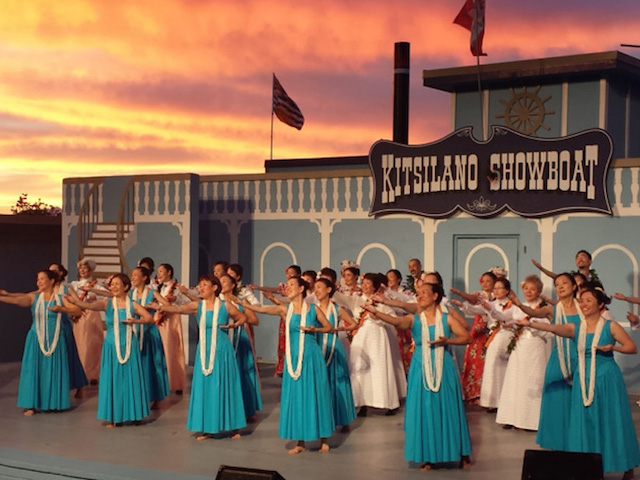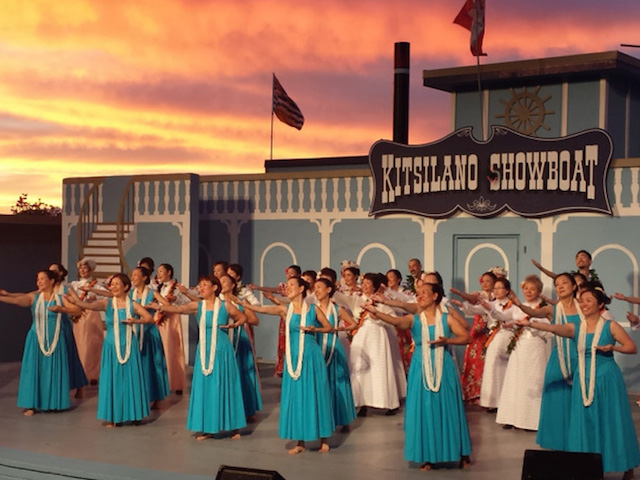 Kitsilano Showboat History
In 1935, the Kitsilano Showboat was founded by Bert Emery. That same year the new Kitsilano Chamber of Commerce organized its first evening of events which included swimming, diving, acrobatics and other entertainment. As the Showboat began during the depression, performers also benefitted as they were not able to secure jobs during those hard times. Made up completely from volunteers, the Showboat has provided free entertainment for almost 70 years. The iconic outdoor stage, built in 1954, represents a Mississippi River showboat. [Source]
This summer, visit the Kitsilano Showboat at 2300 Cornwall (at Kitsilano Beach) in Vancouver, and online on Facebook and Twitter.