You might already know you like folk, bluegrass, Americana or blues music – but have you heard marrabenta music? Or Cajun, Moravian melody, or son jarocho? From the well known and familiar to new and exciting discoveries, there's a world full of music awaiting you at this year's Vancouver Folk Music Festival happening July 13-15, 2018 at Jericho Beach Park.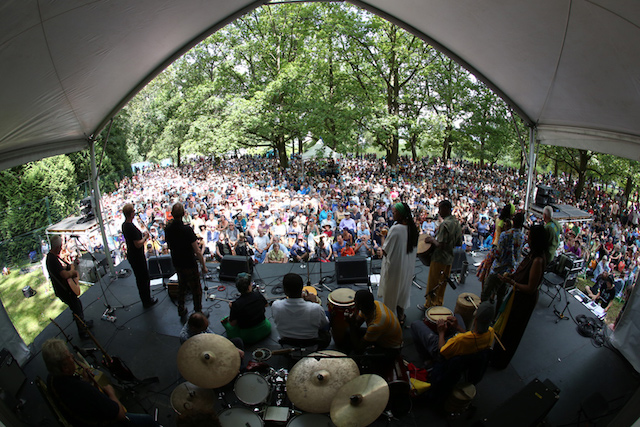 Over the past 4 decades the Vancouver Folk Music Festival (consistently voted "Best Local Music Festival" in the Georgia Straight) has presented a high-quality and diverse roster of performers. This year is no exception! With over 50 acts coming from Europe, Africa, North, Latin and South America and Australia – including from numerous Canadian provinces and territories, and US states – it's a stunning slice of global music and culture.
Vancouver Folk Music Festival
When: July 13-15, 2018
Where: Jericho Beach Park, Vancouver
Tickets: Available online now or by phone (604) 602-9798. Kids 12 and under are free and can enjoy the the whole festival too, and a Little Folks Village.
The Lineup
Art Bergmann (AB)
Wallis Bird (Ireland)
Mariel Buckley (AB)
Steph Cameron (BC)
Neko Case (VT)
Joachim Cooder (CA)
Ry Cooder featuring The Hamiltones (CA)
Rodney Crowell (TN)
Alex Cuba (BC |Cuba)
DakhaBrakha (Ukraine)
Dálava (BC)
Darlingside (MA)
Guy Davis (NY)
The Dead South (SK)
Las Estrellas de Vancouver (BC | Mexico)
Mick Flannery (Ireland)
Dori Freeman (BC)
Gamelan Bike Bike (BC)
Ilaria Graziano & Francesco Forni (Italy)
Gordon Grdina's Haram (BC)
Jimmy "Duck" Holmes (MS)
Iskwé (MB)
Kacy & Clayton (SK)
Martin Kerr (AB)
Ezra Kwizera (BC | Rwanda)
Grant Lawrence & Friends (BC+)
Little Miss Higgins (MB)
John Lowell Band (MT)
A Familia Machado (BC & Brazil)
James McMurtry (TX)
Mike Munson (MN)
Murfitt & Main (BC)
Dawn Pemberton (BC)
Petunia & the Vipers (BC)
Carole Pope (ON)
Les Poules à Colin (QC)
Professor Banjo & Estro Jennies (BC)
Quantum Tangle (NU)
Ranky Tanky (SC)
Steve Riley & the Mamou Playboys (LA)
Archie Roach (Australia)
The Small Glories (AB)
Son de Madera (Mexico)
Jayme Stone's Folklife (ON)
Leonard Sumner (MB)
Three Women and the Truth (TX)
Viper Central (BC)
Skye Wallace (BC)
Wazimbo & Banda Kakana (Mozambique)
Donovan Woods (ON)
Full roster of artists »
Full weekend schedule »
Music and More
In addition to the great music, there is a wide range of tastes and flavours to enjoy in the Food Area and the the Big Rock Beer Garden, crafts and art shopping in the Artisan Market on-site, as well as the Folk Bazaar along the beach front. The Little Folks Village is full of activities and entertainments for the whole family, and the Community Village, where local non-profit organizations share fascinating info about their mission and work. There is a CD and festival merchandise tent, and other things to see and do at the festival as well.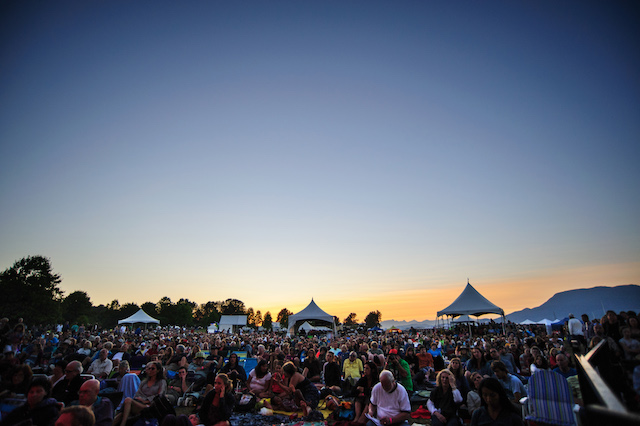 The festival prides itself on its environmental and sustainability initiatives, and on making the festival accessible – and lots of fun. Around 1,400 volunteers help to make the festival a success. There is ample bike parking on site, and visitors are encouraged to bike, walk, or take transit rather than drive to the festival. No bottled water is sold on site – audience members are asked to bring their own bottles – and water refill stations are located around the site.
I've heard there is a magical feeling of friendliness and community between musical adventurers at the Festival, and you can't beat the sound of great music, by the sea, with a stunning Vancouver summer sunset. It's an inspiring and entertaining weekend that generations have enjoyed, and once you experience it, you'll be back!
Follow the Vancouver Folk Music Festival on Facebook, Twitter, and Instagram tag #VFMF2018 for more information and get your tickets today.