Thousands of lakes, the Fishing Highway, and the world's largest cross-country skis are all attractions in 100 Mile House, where many Vancouverites also have waterfront cabins that makes for perfect long weekend getaways with the family. Did you know it also has bird watching, kayaking, some awesome festivals, and even a waterfall in the middle of the city?
Last year I experienced two kinds of horsepower in 100 Mile, and this year I took to the water and discovered what makes this lake-filled region such a fun destination.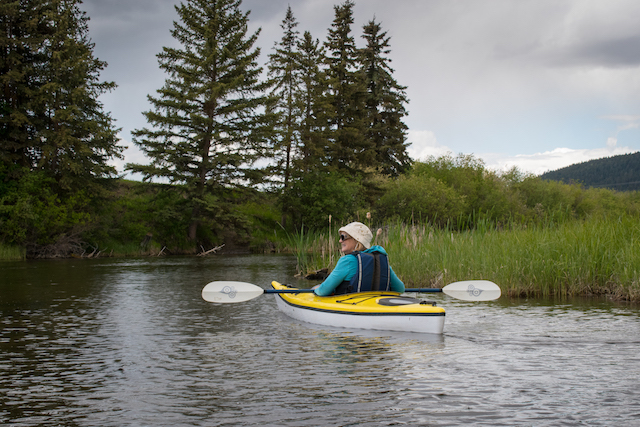 First things first: The festival! Hot July Nights is a road-rocking show n' shine like you've never seen before with more than 200 cars and motorcycles from the Pacific Northwest.
Hot July Nights
Where: Centennial Park (105 Evergreen Cres, 100 Mile House)
When: Friday, July 13 – Sunday, July 15, 2018
Admission: FREE for spectators! To enter your prized cruiser, there is a $10 registration fee.
A weekend of cruisers, classics, choppers and hot rods!
Cool Off
1) Walk around the 100 Mile Marsh
Where: South Cariboo Visitor Centre (Airport Rd, 100 Mile House)
Bird watchers rejoice! The 100 Mile Marsh is a Nature Trust and Ducks Unlimited protected wetland that is filled with migratory and native bird species. Park the car at the Visitor Centre and walk the accessible trail around the lake to spot Flickers, Sandpipers, Redwinged Blackbirds, Yellow Headed Blackbirds, Loons, and more — I even spotted a family of beavers!
2) Paddle a lake
Where to Rent a Kayak: Lone Butte Sporting Goods (6051 BC-24, Lone Butte)
Renting a kayak from Lone Butte is easy, but picking just one of many gorgeous lakes to paddle will be the challenge! You'll just have to challenge yourself to see how many you can navigate during your stay.
Find out how I did my first time fishing ever in 100 Mile! »
3) Bask in the mist of a waterfall
Where: Centennial Park (105 Evergreen Cres, 100 Mile House)
Right on the grounds of Hot July Nights, and just off the parking lot, is the Bridge Creek trail that will take you to twin waterfalls in the middle of the woods. It's such a lovely oasis – and a great place to cool off – in the middle of this bustling community park.
If You Go