In the heart of Downtown Surrey, you can pull up a chair and have a seat at The Long Long Table for a special event this summer. This unique dining experience invites you to dine with family, friends, your community, and perhaps some new faces that you can share a story with or two while you enjoy a cosmopolitan culinary journey.
The Long Long Table at Surrey Civic Plaza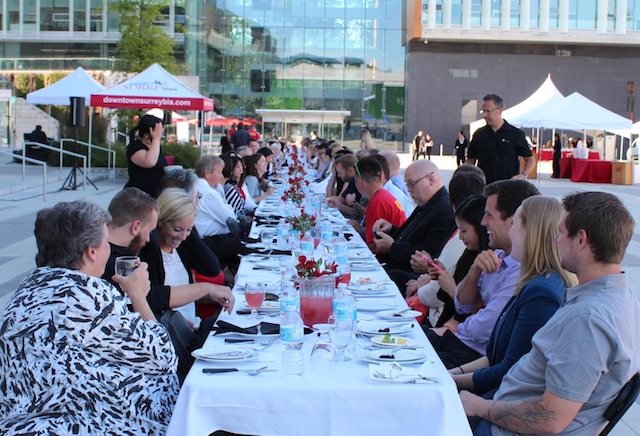 When: Tuesday, June 26, 2018, 5:00pm reception, 6:15pm dinner
Where: Surrey Civic Plaza (13450 104 Ave)
Tickets: $40 each and available online now.
Enjoy local entertainment and a finely crafted five-course dinner prepared by Civic Hotel's renowned chef Ranjeev Arora. Each course is created using fresh local ingredients that celebrate Surrey's diversity.
At the start of the meal, you will be greeted with a delicious assortment of appetizers. From port gelée to baked beet salad with bird eye chili dressing, there will be a variety of flavours to suit your taste. The main course will be a Cuban marinate flank steak paired with sage sweet potato whip and chimichurri. You will finish off with Cointreau crème brulée for dessert.
Savour and connect with this opportunity to network with Surrey business owners, restaurant proprietors, families and friends.
For more information, follow the Downtown Surrey BIA on Twitter and Facebook.