Surrey Fusion Festival, presented by Coast Capital Savings, has announced the Saturday headliner for the 11th annual event. Canadian band Walk Off The Earth will bring their high energy live performance to the stage on Saturday, July 21.
Every year, I either utter these words or I overhear them: "I'm going to Mexico, then Greece, but first I'll stop at India and Nepal, so I'll meet you over at Portugal." With dozens of cultural pavilions, serving up amazing fare along with activities, shopping, demos, and music, the Surrey Fusion Festival is like no other festival around!
Surrey Fusion Festival
Where: Holland Park, Surrey
When: Saturday, July 21 & Sunday, 22, 2018 11:00am to 10:00pm
Admission: FREE! You can also purchase food tickets $1 each.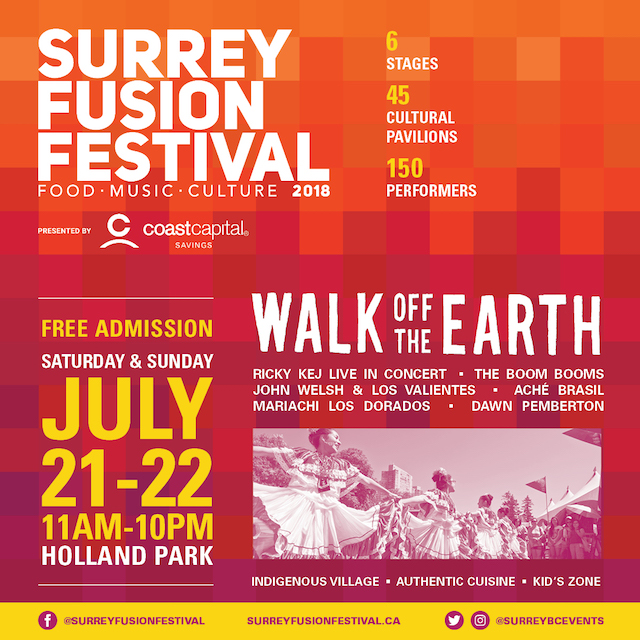 Surrey Fusion Festival Lineup
Additional performers include alternative-soul group The Boom Booms, reggae surf-rock band John Welsh & Los Valientes and Brazilian capoeira performers Aché Brasil. Also appearing is world-renowned environmentalist Ricky Kej live in concert featuring the Surrey Orchestra.
Other festival attractions include over 45 cultural pavilions, five music and dance stages, one cooking stage, over 150 performers, an Indigenous village and a kid's zone.
Cultural Pavilions
ASIA
Hong Kong
Kazakhstan
Korea
Sri Lanka
Afghanistan
Bangladesh
China
India
Indonesia
Nepal
Pakistan
Palestine
Philippines
Taiwan
Thailand
Vietnam
CENTRAL AMERICA
& THE CARIBBEAN
Cuba
Haiti
Barbados
El Salvador
Guatemala
Honduras
Jamaica
Trinidad and Tobago
NORTH AMERICA
Canada
First Nations
French-Canadian
Inuit
Métis
Mexico
AFRICA
South Sudan
Democratic Republic of Congo
Gabon
Ghana
Kenya
Nigeria
South Africa
Togo
Zambia
EUROPE
Albania
France
Germany
Italy
Russia
Ukraine
SOUTH AMERICA
Venezuela
Chile
Colombia
Ecuador
Peru
SOUTH PACIFIC
Fiji
Follow Surrey Fusion Festival on Facebook, Twitter, and Instagram for more information.