The Shipyards Night Market, one of Metro Vancouver's biggest night markets, has returned for the summer! Join thousands of nightly visitors on the picturesque waterfront setting in Lower Lonsdale to experience the Shipyards Night Market's vibrant atmosphere.
Shipyards Night Market
Where:Lower Lonsdale's Shipyards District, North Vancouver
When: Fridays until September 28, 2018 5:00pm to 10:00pm
Admission: FREE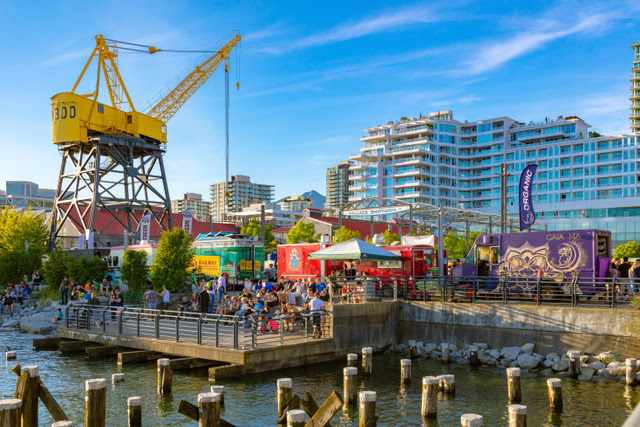 Close to downtown Vancouver and easy to get to via the Seabus, those who join in on this weekly event will see the Shipyards Plaza transformed into a lively celebration site and discover 100+ vendors and a full farmers and artisans marketplace of locally made products. Visitors can eat their way through the night tasting fresh dishes from 40+ food trucks and food vendors and then chase it all down with ice-cold craft beer, cider and wine offered in the 19+ beer garden.
Live entertainment on the Shipbuilders' Stage will keep the party going until 10:00pm, showcasing a wide variety of musical talent from across BC including Mostly Marley (May 4), Big Easy Funk Ensemble (May 11), Persons of Interest (May 18), Freeflow (May 25) and more throughout the summer.
The Shipyards Night Market is conveniently located just east of the SeaBus terminal and Lonsdale Quay, at the foot of Lonsdale Avenue in North Vancouver. Street parking is available, and there is also free parking in the ICBC Parkade after 6:00pm on Fridays, which is adjacent to Lonsdale Quay.