The 36th annual Jessie Richardson Theatre Awards ("The Jessies", "The Jessie Awards") will be handed out in a live ceremony on July 16th at Bard on the Beach. Celebrating a year of talented performances on all stage sizes and behind the scenes, it's an evening where Vancouver's artistic community all shines (and parties) together.
The Jessie Awards
When: Monday, July 16, 2018 doors open at 5:30pm, ceremony at 6:30pm
Where: Bard on the Beach BMO Mainstage at Vanier Park
Tickets: Available online now for $30 plus service charges.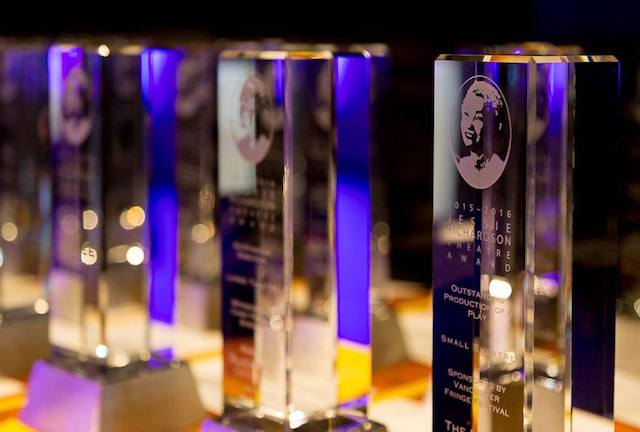 This year's productions have a wide variation of diverse productions in various venues and demonstrate the creativity, imagination, and skill of the extremely talented group of artists who bring their vision to life on the stage. The dynamic works add to the cultural richness and vibrancy not only to Vancouver and its residents, but also to the province and beyond.
The Jessie Awards are divided into three categories: Large Theatre, Small Theatre, and Theatre for Young Audiences along with other special awards. Here are some of the highlights of the nominations: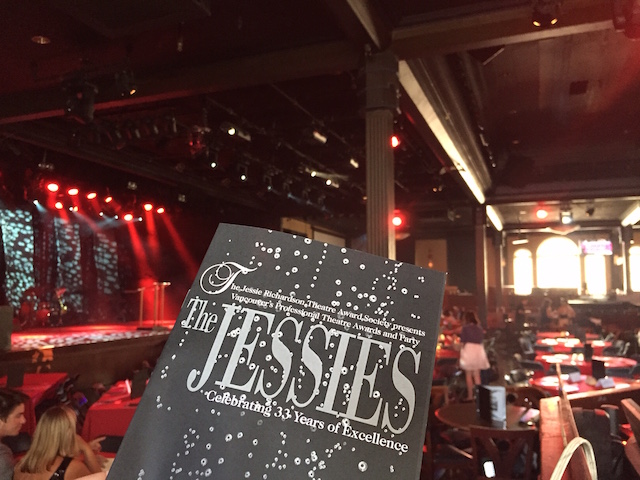 The Arts Club Theatre Company received the most nominations in the Large Theatre category with a total of 12 nominated productions and earning a total of 34 nominations. Of the 12 productions, Hand to God led the way with a total of 6 nods that included both lead actors nominated Oliver Castillo and Jennifer Lines along with Stephen Drover for his Outstanding Direction of the production, and the creativity of Jeny Cassady for her Outstanding Puppet Design and Coaching.
Topdog/Underdog and Angels in America, Part Two: Perestroika both received 5 nominations. Topdog/Underdog's Luc Roderique was acknowledged for his performance, Dean Paul Gibson for Outstanding Direction along with the show's nomination for Outstanding Production. Brian Markinson and Lois Anderson were nominated for their Outstanding Performances in Angels in America, Part Two: Perestroika and the creative team of Torquil Campbell and Alessandro Juliani for Outstanding Sound Design, John Webber for Lighting and Kim Collier for Direction. Productions of Fun Home and Misery each earned four nominations with each garnering a nod for Outstanding Production. Other notable productions included Beauty and the Beast, Misery, King Charles III and Million Dollar Quartet.
Pacific Theatre received a total of 10 nominations with Outside Mullingar scoring 6 for this captivating production that included a nod for Outstanding Production along with Angela Konrad for Outstanding Direction. Writer Mark Leiren-Young was acknowledged for his script for Pacific Theatre's Bar Mitzvah Boy.
Bard on the Beach followed with 5 of their productions saluted with a total 8 nominations with Much Ado About Nothing leading with 4 nominations for Outstanding Production including Amber Lewis for her amazing performance.
Other remarkable productions nominated included Firehall's Circle Game, Neworld's King Arthur's Night, Pi Theatre's The Events, Gateway Theatre's Nine Dragons, Touchstone's Happy Place, and Urban Ink for Significant Artistic Achievement to Corey Payette for Children of God.
The Small Theatre Category was extremely prolific with a total of 22 productions nominated that spread across the board. Rumble Theatre's production of The Society for the Destitute Presents Titus Bouffonius garnered 8 nods with Colleen Murphy for Outstanding Original Script and Stephen Drover receiving his second nomination for Outstanding Direction.
SpeakEasy Theatre's production of The Shipment received 5 including Omari Newton for his superb performance. Three diverse companies each garnered 4 nods, Monster Theatre's Who Killed Gertrude Crump?, Vancouver Asian Canadian Theatre's 1 Hour Photo and Patrick Street Productions' A Little Night Music that included a nod to multi award winning talent, Patti Allen. Prime Cuts Collective's Butcher earned 3 nominations with actors noted for their work, Peter Anderson and Lindsey Angell. Other productions receiving 3 nominations included Solo Collective's Satellite(s), Cave Canem Production of The Lonesome West and Dark Glass Theatre's Ruined. There are additional productions recognized which are included in the complete list of nominees.
Under the Theatre for Young Audiences category, Green Thumb Theatre garnered a total of 12 nominations with their production of The Code receiving 5, and Jabber, addressing the modern use of technology to reach teens, received 6, both shows earned a nomination for Outstanding Production. Also, to note, Green Thumb Theatre received 4 nominations in the category of Significant Artistic Achievement and in addition, Rachel Aberle was nominated for her innovative script of The Code, giving this work a total of 5 salutes. Carousel Theatre follows with a total of 6 nominations – 4 going to The Velveteen Rabbit and 2 for The Lion, the Witch and the Wardrobe. Additional companies who received a nomination were Monster Theatre for The Canada Show, Axis Theatre's Th'owxiya: The Hungry Feast Dish, and Théâtre la Seizième's Crème -Glacée.
Additional Awards and Prizes
If you're looking to honour the past and celebrate the future of Vancouver theatre, pay close attention to these special additional awards and prizes that are handed out the The Jessies. Their namesakes, and recipients, have amazing stories.
The list includes: the Vancouver Now Representation and Inclusion Award, the Patron of the Arts Award, the Mary Phillips Prize, the Ray Michal Prize for Emerging Director, the Sam Payne Award for the Most Promising Newcomer, the John Moffat & Larry Lillo Award, the Critics' Choice Innovation Award, and the GVPTA Career Achievement Award.
Enjoy the Awards After Party, at Progress Lab, 1422 Williams St, from 9:30pm to 1:00am. Holding Space Production is producing the event again this year, creating a fun and swiftly moving event.
Follow the Jessie Awards on Facebook and Twitter for more information about this event and Vancouver's theatre scene throughout the year.
Miss604 is a proud sponsor of the Jessie Richardson Theatre Awards