Here in British Columbia, we're surrounded by natural beauty. It's hardly a news flash. And yet, sometimes it helps to be reminded of how lucky we are. From Vancouver's snowcapped mountains to Coquitlam's remote hiking viewpoints, our backyard is vast, wild and waiting to be explored.
This month, why not trek the trails less travelled in Coquitlam? Or introduce your kids to fishing for trout? From a free fishing derby to affordable group hikes, it's time to shake out those boots, mark your calendars and get ready for some new adventures.
Hiking and Fishing in Coquitlam
Go for a Hike
Coquitlam's three prime hiking areas include Westwood Plateau/Eagle Ridge, Pinecone Burke Provincial Park and Minnekhada Regional Park. Trails vary in difficulty, from the intermediate High Knoll walk at Minnekhada to urban forest trails for beginners at Mundy Park. Read pg. 22-23 in Coquitlam's Travel & Experience Guide for further details, including important tips about travelling safe outdoors and being bear smart.

Hiking Groups
New to hiking or don't know Coquitlam's trails? No problem – you can join a group with an experienced leader.
The City of Coquitlam's outdoor recreation programs include guided hikes, including one coming up on May 23 that is perfect for newbies. The Line Trail Loop is a 5.4 km round-trip trek that starts by ascending up steep mountain bike trails and old roads to the top of the power lines on Burke Mountain, taking in views of Eagle Ridge and Pitt Meadows (register online). For more hikes, including Baby and Me Hiking, also check out Coquitlam's Spring/Summer Guide.
The Burke Mountain Naturalists also conduct guided hikes. Non-members are able to join them three times at no cost before becoming a member.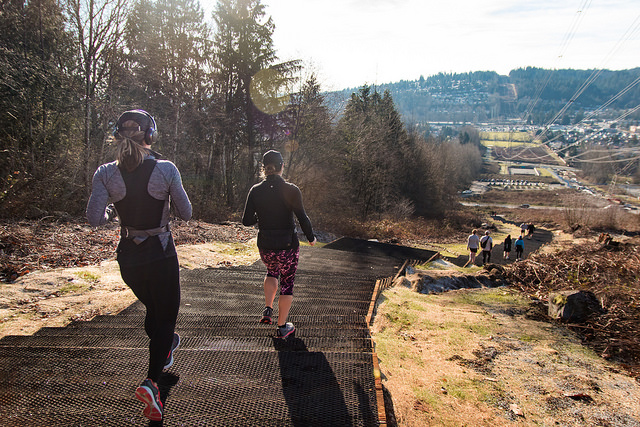 Do the Crunch
Up for a challenge? The Coquitlam Crunch is a fitness hike from the base of Eagle Mountain to the summit on Eagle Mountain Drive. You start by climbing more than 400 stairs, followed by an uphill hike that gains 250 metres in 2.2 km. Run it, if you dare … The Crunch is easily accessed by transit and is completely free.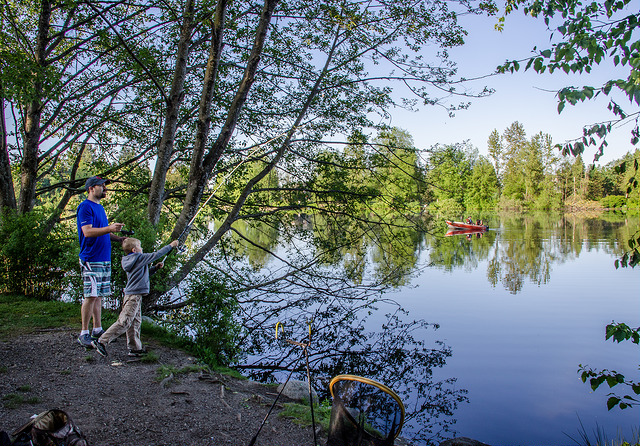 Go Fishing
Two of Coquitlam's urban lakes have recently been stocked with rainbow trout and conditions are ideal for fishing.
At Lafarge Lake in Town Centre Park, it's as easy as stepping off the SkyTrain at Lafarge Lake-Douglas SkyTrain station, fishing rod and tackle box in hand, and casting your line into the water. You can access fishing by shore, dock or float tube.
Como Lake is also accessible by transit and has ample parking, with fishing accessible by dock, shore or row boat. For more information about fishing in Coquitlam, including fishing licence requirements, read Coquitlam's Travel & Experience Guide.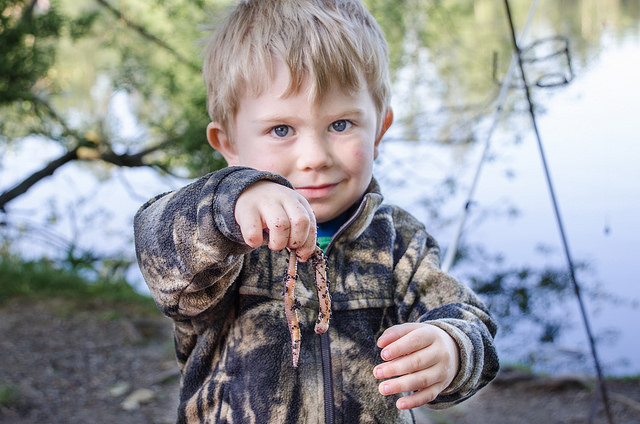 Free Fishing Events
Want to introduce your kids to the experience of reeling in a trout? Mark your calendars for these two free fishing derbies coming up in Coquitlam.
Como Lake Fishing Derby (May 27, 2018) – This free event at Como Lake is for kids under age 16, with prize giveaways for a variety of catches. It's a fun day out at Como Lake Park, attracting hundreds of children each year.
Lafarge Lake Free Fishing Day (June 17, 2018) – Fishy fun and prizes during BC's free fishing weekend, when licences aren't required. Lafarge Lake will be stocked in the morning with rainbow trout, so there are plenty of opportunities to reel in a fish.
Learn How to Fish
Kids aged 5-12 can learn the basics of freshwater fishing during a free (by donation) two-hour session with Freshwater Fisheries Society of BC. Rods are provided. For further details, see pg. 25 in Coquitlam's Spring/Summer Program Guide.
Salmon Leave Home
The name Coquitlam comes from the Coast Salish word kʷikʷəƛ̓əm (Kwikwetlem), which means "red fish up the river." At this free festival, you will learn about the salmon life cycle and celebrate the release of young coho into the creek to start their journey to the Pacific Ocean. It takes place Sunday, May 6, 2018 11:00am to 2:00pm, at Hoy Creek Fish Hatchery, near Lafarge Lake-Douglas SkyTrain station.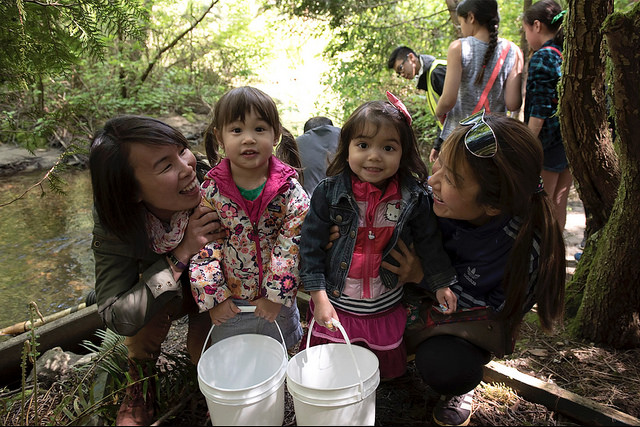 Places to Eat & Drink
Make it a full day out! If you're passing through the Lafarge Lake-Douglas SkyTrain area, you'll find many cafés and restaurants in the area, including some excellent options on Pinetree Way and along Glen Drive.
Looking for recommendations of places to grab a bite to eat or a cold drink? Read Coquitlam's Travel & Experience Guide.
Share your photos on social media by tagging #ExploreCoquitlam! For more things to do and see, visit the Explore Coquitlam website.