I always love being a tourist in my hometown, and learning something new about a place that I'm already very familiar with. The same goes with a simple walk in the forest. You might think all trees are the same, but each one is unique. This spring I met up with Candace Campo, founder of Talaysay Tours, at Porpoise Bay Provincial Park to take a walk near her ancestral home in Sechelt, along BC's Sunshine Coast.
Getting to Know the Forests of the Sunshine Coast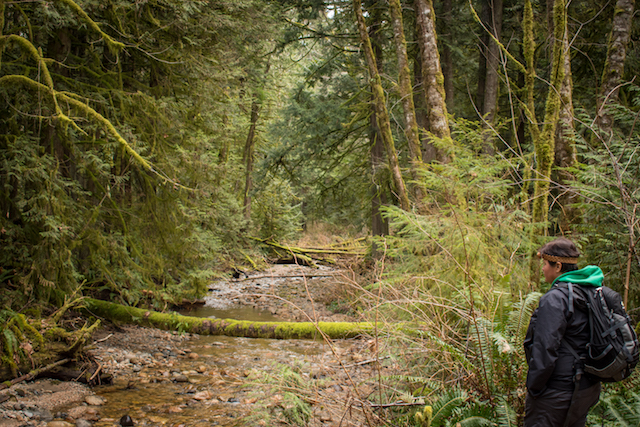 Talaysay Tours is known for its awesome Talking Trees tour, as well other tours up the Sea to Sky and Sunshine Coast. I got to soak up the wonders of the coastal temperate rainforest of the Sunshine Coast with Candace, who shared her vast knowledge of local indigenous agriculture, aquaculture, and regional history during our tour.
We strolled around the lush green trail beside Angus Creek as she pointed out berries, plants, and trees – giving recommendations, tips, and being the ultimate natural Yelp reviewer for the forest's bounty. One of the elements that stuck with me the was how the forest was so useful to humans, as well as deeply respected.
I feel like I made new friends that day, by getting to know some of the amazing uses, features, and perks of these trees found on the Sunshine Coast. You can read about the Cedar (aka the Tree of Life), Alder, Douglas Fir, Maple, and Western Hemlock in the story I wrote for ZenSeekers »
I highly recommend that you explore the forests of the Sunshine Coast, in particular with Candace and her team at Talaysay Tours. If you think all trails, creeks, and evergreens are the same – think again! You'll find yourself making connections, learning, and growing. And as Candace puts it, establishing a new relationship with the forest. It will feel amazing.
Read my full story on ZenSeekers »
If You Go
BC Ferries leaves from Horseshoe Bay in West Vancouver to the Sunshine Coast with around 10 sailings daily, plus sailings from Vancouver Island to the northern Sunshine Coast (Powell River), or you can take advantage of the many other transportation services including float planes, passenger ferry service, and more.
Sunshine Coast Tourism can help make plans.
Tag #SunshineCoastBC and #ZenSeekers on your travels here and you might be featured on their social media channels.