The 14th annual Surrey International Children's Festival inspires young hearts and minds to greater possibilities, and celebrates our rich and diverse cultural heritage through performing and visual arts experiences. Join in the fun May 24-26, 2018 at Bear Creek Park and the Surrey Arts Centre.
Surrey International Children's Festival
Where: Surrey Arts Centre and Bear Creek Park (13750 88 Ave)
When: May 24-26, 2018
Tickets: Access to the site is free, as well as participation in Saturday's parade. However most performances and activities are ticketed. Read about Saturday Full Day Passes ($12-$15) and more pass options here »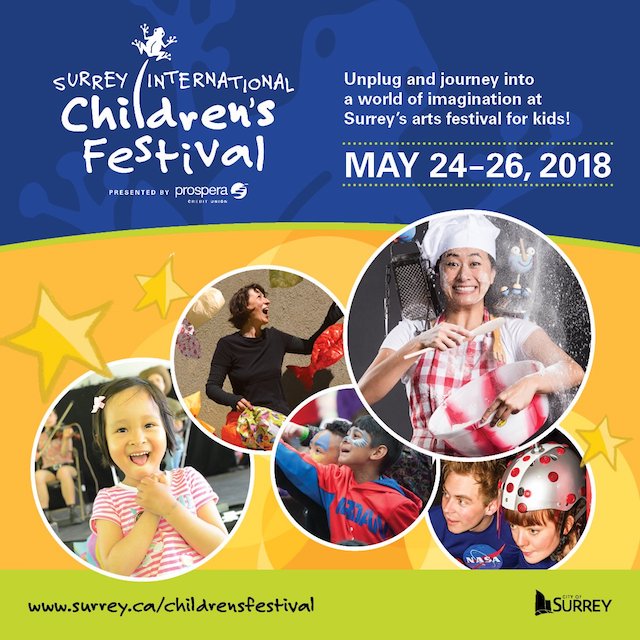 This year's festival theme is Play. Create. Do. The Surrey International Children's Festival is investigating simple everyday play. Ticketed performances incorporate Tetris, a physical dance performance from the Netherlands where the dancers investigate how their bodies relate to each other as they move in space.
Plastique from Quebec creates an entire world out of plastic bags and the relationship between two garbage bag puppets. Baking Time, a co-presentation between the UK's Oily Cart company & North Vancouver's Presentation House, celebrates cooking in the kitchen and the joy of seeing utensils come to life. Hula-hoops, clay, face paint, and simple imaginative play will be the theme of the many art activities on site.
There are 5 performance venues which will feature national and international performers:
3 venues inside the Arts Centre (Main Stage Theatre, Studio Theatre and Lily Pad Stage)
2 venues in Bear Creek Park (Leap Frog Stage and Community Spirit Stage)
There are hands-on arts activities inside tents, and roving performances throughout the park.
Thursday, May 24, 2018 9:00am to 2:30pm
Come celebrate First Nations' culture during our opening ceremony (including traditional blessings with songs and dances) and be the first ones to experience our 2017 site activities… haven't had the time to do all of them? You're welcome back: each arts activity wristband is valid all 3 days! Awesome, isn't it?
Friday, May 25, 2018 9:00am to 2:30pm
It's time to experiment the Francophone way! Chantez et dansez and learn new skills at our francophone performances and workshops, laugh with our bilingual roving performers and be amazed by our bilingual Community Spirit Stage performances. Faites partie du party: fun is all around!!
Saturday, May 26, 2018 10:30am to 7:30pm
After enjoying the Festival with your class, come back on Saturday with your family and be part of the action during our Festival Procession. Also, check out the performers & art activities that day!
View the full schedule here »
Follow the Surrey International Children's Festival on Facebook and Twitter for more info.
Miss604 is a proud sponsor of the Surrey International Children's Festival