After returning from an overseas trip I was checking one of my favourite local news sites – the Vancouver Courier – to read about what I have missed over the past week around town and I found that they had published the results of their 2018 Stars of Vancouver. There in bold print was my name, sitting at #1 in the Local Blogger category. THANK YOU!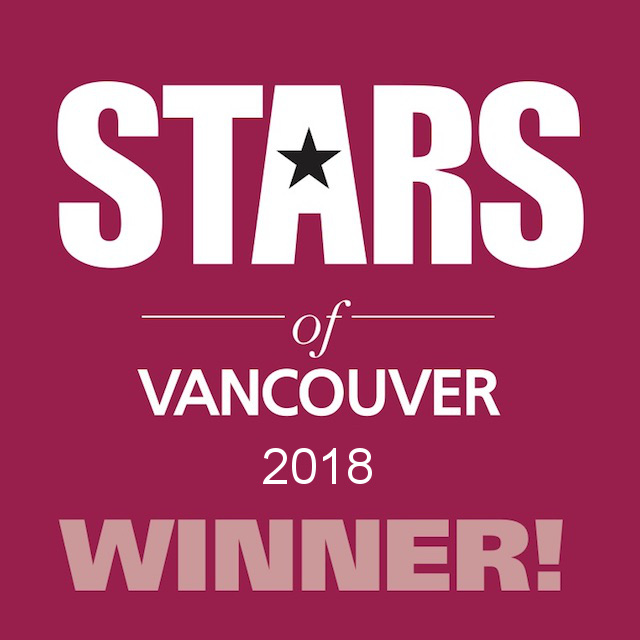 Runners up in the blogger category are Frances Bula and Erin Ireland – both incredible women who are leaders in their industry, and my go-tos for urban issues and local food trends respectively.
Stars of Vancouver 2018
Here are a few of the other winners honoured as Stars of Vancouver:
CINEMA
Rio Theatre

CRAFT FAIR
Circle Craft

FESTIVAL
Vancouver Folk Music Festival

GALLERY/MUSEUM
Vancouver Art Gallery

NEIGHBOURHOOD
Kerrisdale

TOURIST ATTRACTION
Stanley Park

CATERER
The Butler Did It

CHEF
Ned Bell

COCKTAIL BAR – EASTSIDE
The Keefer

COCKTAIL BAR – WESTSIDE
Grapes & Soda

COCKTAIL BAR – DOWNTOWN
Uva

DESSERT SPOT – EASTSIDE
Sweet Revenge

DESSERT SPOT – WESTSIDE
Sweet Obsessions Cakes & Pastries

DESSERT SPOT – DOWNTOWN
Thierry

CHILD-FRIENDLY RESTAURANT
White Spot (won every geo-category)

FOOD ON DEMAND
Foodora
Want to know who has the best burger, brunch or coffee? View the full list of winner in this week's Vancouver Courier, or online here »
I need to thank the Vancouver Courier for continuing to add a blogger category to their awards list, and I especially need to thank every voter, reader, and supported that has been reading Miss604 over the last 14 years. This is my 8th #1 blogger award, and 30th award for blogging. For something that started out as a hobby, I'm ever so grateful that I have been able to build a career out of what I love. To those who read, like, comment, and share my content, THANK YOU!