The SKOOKUM Festival single day lineup has just been released! SKOOKUM is a new festival experience that will take to Stanley Park September 7-9, 2018 featuring daily headliners The Killers, Florence + The Machine, and Arkells.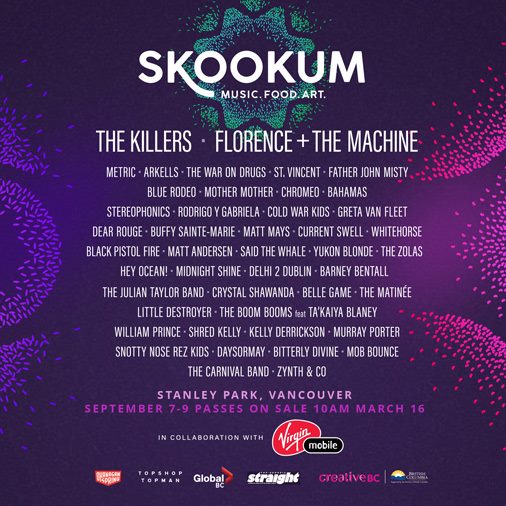 SKOOKUM Festival Single Day Lineup
Single day tickets will be available to the general public on Friday, April 20, 2018. There are a few pre-sales on Thursday. Weekend passes are $319 (all prices listed are subject to applicable service charges & fees​​​​​​​), here's the full rundown:
Friday, September 7, Gates: 4:00pm
FRIDAY – TIER 1 CA$114 TIER 2 CA$139 get tickets »
ARKELLS
Chromeo • Dear Rouge • Matt Mays • Delhi 2 Dublin
Black Pistol Fire • The Julian Taylor Band • Little Destroyer
Shred Kelly • Mob Bounce • The Carnival Band • Zynth & Co
Saturday, September 8, Gates: 12:00pm
SATURDAY – TIER 1 CA$169 TIER 2 CA$199 get tickets »
FLORENCE + THE MACHINE
Metric • The War on Drugs • St. Vincent • Rodrigo y Gabriela
Milky Chance • Stereophonics • Current Swell • Said The Whale
The Zolas • Matt Andersen • Hey Ocean! • Midnight Shine
The Matinée • Murray Porter • Snotty Nose Rez Kids • Bitterly Divine
Sunday, September 9, Gates: 12:00pm
SUNDAY – TIER 1 CA$169 TIER 2 CA$199 ​​​​​​​ get tickets »
THE KILLERS
Father John Misty • Blue Rodeo • Mother Mother • Bahamas
Greta Van Fleet • Buffy Sainte-Marie • Cold War Kids • Whitehorse
Yukon Blonde • Barney Bentall • Crystal Shawanda • Belle Game
The Boom Booms feat Ta'Kaiya Blaney • William Prince
daysormay • Kelly Derrickson
The inaugural three-day festival is produced by BRANDLIVE in collaboration with Virgin Mobile and will feature over 50 stage performances by some of the biggest names in music today, live and multimedia art installations; gourmet culinary experiences from some of Vancouver's most acclaimed restaurants; pop-up and roaming entertainment and tasting areas showcasing some of the best BC wines, locally brewed craft beer as well as select offerings from local area craft distilleries.
For more information, follow SKOOKUM on Facebook, Instagram, and Twitter with the tag #SkookumFestival.