On May 9th, Dress for Success Vancouver's 18th annual fundraiser IMPACT 360: FLOURISH will include spirit tastings, designer cocktails, hors d'oeuvres and live music. This signature event welcomes over 300 of Vancouver's most influential business leaders, sponsors and community supporters.
The evening highlights the success of all the women who have passed through the dressing, career and mentorship programs and raises funds to support the women ahead. One Ambassador will make her public speaking debut and share her triumphant story with the DFSV community.
Dress for Success IMPACT 360: FLOURISH
Where: Regency Lexus (2288 Burrard St, Vancouver)
When: Wednesday, May 9, 2018 6:00pm to 8:30pm
Tickets: Available online now. Tickets: $175; Tax Receipt included: $100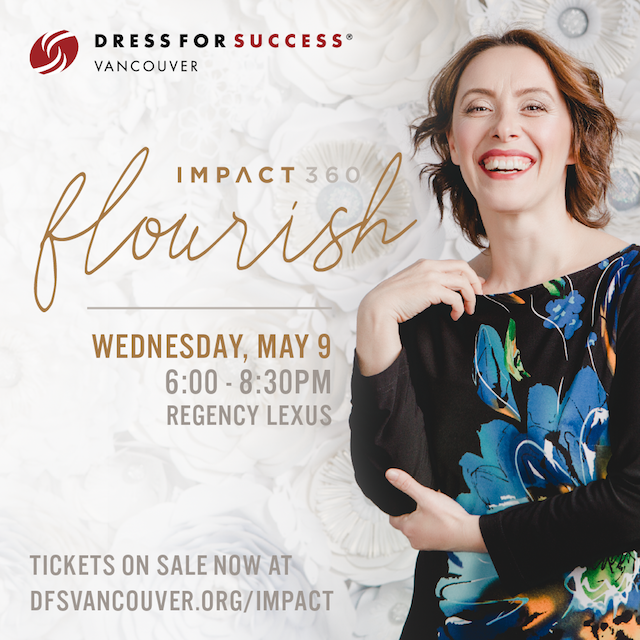 New Client Ambassador Program
Of the over 30,000 women Dress for Success Vancouver has served over the last 19 years, many return months later asking how they can return the favour. With so many looking to give back to the organization and help the next group of women find their self-esteem and career, the Client Ambassador program was created.
The DFSV Client Ambassador Program provides members with training, development and opportunities to represent Dress for Success at events and in the media. The program gives members the tools to expand their professional development as well as providing public facing clients eager to share their stories.
Join Dress for Success supporters and Ambassadors at Regency Lexus on May 9th for spirit tastings, hors d'oeuvres, music, auctions and raffles. Help DFSV reach their goal to sponsor 100 women for a year at this fabulous evening of giving.
Follow along on Facebook, Twitter, and Instagram for more info.