YWCA Metro Vancouver has announced 68 outstanding nominees for the 35th Annual Women of Distinction Awards, which will take place on Thursday, June 7, 2018 at the JW Marriott Parq Vancouver.
Women of Distinction Awards Nominees 2018
This year's nominees for the Women of Distinction Awards are:
Arts, Culture & Design
Diane Brown, Co-Founder and Artistic Director of Ruby Slippers Theatre
Mary-Jo Dionne, Principal of Mary-Jo Dionne Productions
Nancy Lee, Chapel Sound Festival
Alison Meredith, Associate Director (Development) Audain Art Museum
Esther Rausenberg, Trustee of the Vancouver Art Gallery
Kim Spencer-Nairn, Founder of the Capture Photography Festival
Business & the Professions
Christine Bergeron, Executive Lead (SVP), Member Experience and Community Engagement at Vancity
Leslie Collin, Director of People and Culture at Unbounce
Wendy King, Vice President, Legal, Risk and Governance
Carol Leong, Vice President and Investment Advisor at TD Bank
Kirsten Sutton, Vice President and Managing Director of SAP Labs Canada
Heidi Worthington, Senior Vice President and Chief Revenue Officer at Pacific Blue Cross
Community Champion
Narima Dela Cruz, Founder of the Surrey Philippine Independence Day Society
Amy Fong, Founder of Vancouver Diaper Circle
Amy M George, Elder of the Tsleil-Waututh Nation
Joanne Griffiths, Founding member of Canuck Place
Sarah Maitland, Founder of the Writers' Exchange
Andrea Thomas Hill, Founder of Cause We Care Foundation
Joanne Wild, Inspector with the Vancouver Police Department
Education, Training & Development
Susan Hutchinson, Director of Crofton House Junior School
Rosalind Poon, Teacher Consultant for Richmond School District
Leila Rahemtulla, Instructor in Continuing Studies, SFU and BCIT's School of Business.
Mara St. Onge, Founder of Blingja Concepts
Colleen Vaughan, Vice-President, Academic at the Justice Institute of BC
Entrepreneurship & Innovation
Noel Asmar, Noel Asmar Group
Becky Brauer, Head of Culinary at Fresh Prep
Lauren Carbis, The Prevail Project
Bonnie Foley-Wong, Pique Ventures
Mandy Gill, Mandy Gill Motivates
Melanie Greenough, Founder and CEO of Melaniegreenough.com
Debra Lykkemark, Chairman and Founder of Culinary Capers Catering and Special Events
Tea Nicola, WealthBar
Edoye O. Porbeni, Future Health Ventures Inc.
Carol Robinson, Owner of Harbour West Consulting
Environmental Sustainability
Maureen Jack-Lacroix, Be The Change Earth Alliance
Wilma Leung, Senior Manager, Technical Research and Education at BC Housing
Brianne Miller, Founder and CEO of Nada
Vanessa Timmer, Co-Founder and Executive Director of One Earth
Christianne Wilhelmson, Executive Director at Georgia Strait Alliance
Health & Wellness
Betty Calam, Associate Professor, Department of Family Practice, UBC Faculty of Medicine
Christine Loock, Developmental Pediatrician at Children's and Women's Health Centre of BC
Roanne Preston, Head of the Department of Anesthesiology, Pharmacology and Therapeutics, Faculty of Medicine, UBC
Tara Sedlak, Medical Director, Leslie Diamond Women's Heart Health Clinic at Vancouver General Hospital
Christy Sutherland, Medical Director of PHS Community Services Society (PHS) and Education Physician Lead with the BC Centre on Substance Use
Elizabeth J. Watt, Abbotsford Youth Health Centre
Non-Profit
Jennifer Breakspear, Executive Director of PHS Community Services Society
Sharon Gregson, Collingwood Neighbourhood House
Maria Hudspith, Executive Director of Pain BC
Teri Nicolas, President & CEO of BC Children's Hospital Foundation
Julia Staub-French, Executive Director of Family Services of the North Shore
Public Service
Cheney Cloke, Strategic Transformation Team at Fraser Health
Amanda Farrell, President and CEO of Partnerships BC
Satwinder Kaur Bains, Director of the Asian Studies Institute at the University of the Fraser Valley and an Associate Professor in Social, Cultural, and Media Studies at UVF College of Arts
Linda Lupini, Executive Vice President of BC Emergency Health Services
Zulie Sachedina, Vice President, Human Resources and the first General Counsel for Providence Health Care
Lisa Spitale, Chief Administrative Officer of the City of New Westminster
Research & the Sciences
Connie Eaves, Distinguished Scientist at the Terry Fox Laboratory of the BC Cancer Agency
Shanna Knights, Director of Research at Ballard Power Systems
Gina Ogilvie, Senior Advisor of Research at BC Women's Hospital and Health Centre
Young Woman of Distinction
Tara Bosch, Founder and CEO of SmartSweets
Veronika Bylicki, Co-Founder of CityHive
Jasmine Mander, Head Coach in the BC Soccer Premier League
Cecilia Pang, ajourney2success & Art2Heart
Mary Zheng, When I Grow Young
Outstanding Workplace
Icon Award
The Women of Distinction Awards is thrilled to announce the Right Honourable Kim Campbell as the recipient of the 2018 Icon Award. Selected internally by the YWCA, the Icon Award recognizes an extraordinary woman for her achievements throughout her lifetime.
YWCA Women of Distinction Awards
Where: JW Marriott Parq Vancouver
When: Thursday, June 7, 2018
Tickets: Early bird pricing ends Thursday, March 29th. Order online or call (604) 895-5768. Until March 29th: $245 per person. As of March 30th: $295 per person (10 seats per table).
Follow the YWCA of Vancouver on Facebook and Twitter for more information along with the YWCA Women of Distinction Awards @YWVanWODA on Twitter.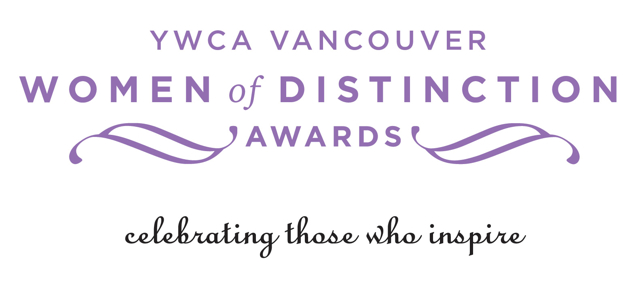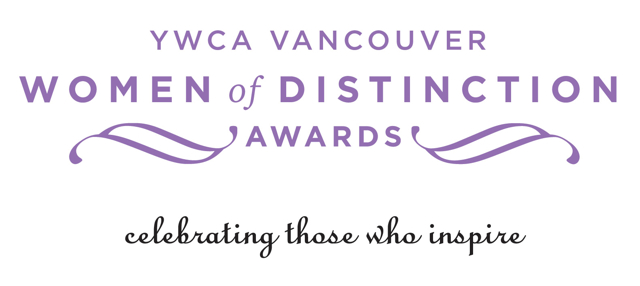 YWCA Metro Vancouver is dedicated to achieving women's equality. Their mission is to touch lives and build better futures for women and their families through advocacy and integrated services that foster economic independence, wellness and equal opportunities.
Miss604 is the proud Social Media Sponsor of the YWCA Women of Distinction Awards, since 2010