A handful of Vancouver's most notable chefs will treat you to a spectacular showcase of the award winning Japanese cuisine from the top restaurants in Vancouver during the Vancouver Cherry Blossom Festival's Sakura Night Gala.
Sakura Night Gala
Where: Stanley Park Pavilion (610 Pipeline Road, Vancouver)
When: Sunday, April 22, 2018
Doors Open at 6:30pm, Standing Dinner Reception from 6:30pm to 9:30pm
Tickets: Purchase online now for $160.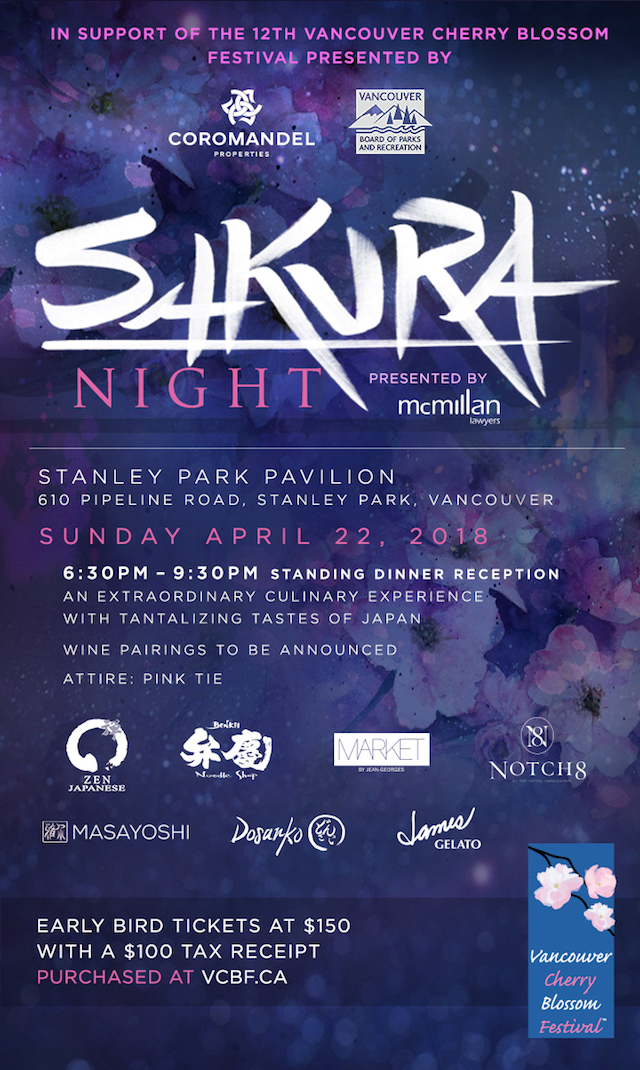 Alongside cherry blossom inspired food, wine, sake, and beer pairings, there will also be amusing libations from renowned Bartender & cocktail designer Jay Jones, who oversees Beverage and Media for Vij's Group of restaurants. Jay will welcome you to the gala with an exciting new cherry blossom cocktail experience.
Finlandia Pharmacy & Natural Health Centre will serve you their special GABA tea to give you a beautiful sleep after a wonderful Sakura Night Gala evening.
All proceeds will go to fund the Vancouver Cherry Blossom Festival ("VCBF"), a charitable intra-community arts and culture festival focused on community engagement, multiculturalism, the arts, and the environment.
Participating Chefs
Chef Nobu Ochi, Zen Japanese Restaurant / Paired with Lunessence Winery
Chef Will Lew, Notch8 Restuarant & Bar / Paired with Hugging Tree
Chef Masayoshi Baba, Masayoshi / Paired with Fujiyama Imports
Chef Ken Nakano, Shangri-La Hotel Vancouver / Paired with Haywire Wine
Chef Nathan Lowry, Dosanko / Paired with Powell Brewery
Chef Takayuki Omi, Benkei Ramen / Paired with Stanley Park Brewing
Chef James Coleridge, James' Gelato
Miss604 Reader Pricing
Special pricing for Miss604 readers! When you purchase your ticket use "Enter the Promotional Code" SNMiss604 to receive the early bird price $150 plus $2.50 GST. $100 is eligible for a charitable tax receipt.
The Vancouver Cherry Blossom Festival runs April 3-April 29, 2018 with events (some free, some ticketed) happening across the city. Follow VCBF on Facebook, Twitter, and Instagram for more information and inspiration.