The 2nd annual Richmond Cherry Blossom Festival celebrates the arrival of Spring and blooming of the cherry blossoms.
When: Sunday, April 8, 2018 11:00am to 4:00pm
Where: Garry Point Park, Richmond
Admission: Free and open to the public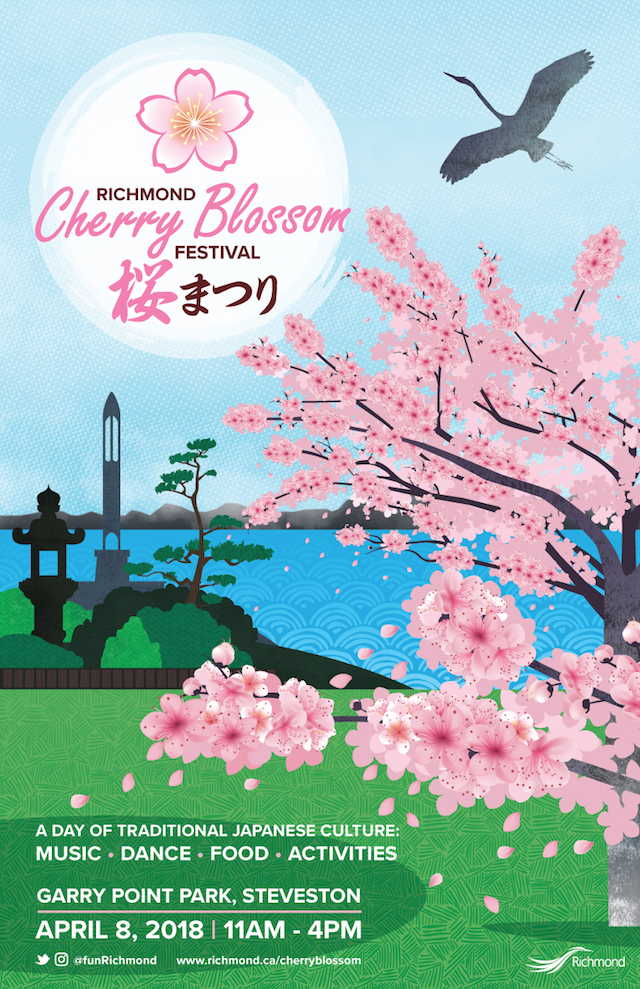 In Japan, cherry blossoms are known as sakura, which are a special flower to the people and the country. The cherry blossom signifies a time of renewal and the cycle of life. Two weeks after the peak of the cherry blossom's bloom, the pedals begin to fall.
The cherry blossom celebration includes picnics under the cherry trees with food and drinks, shared with friends and family—this is a tradition known as hanami which translates to "watching blossoms," and can be traced back hundreds of years.
The Richmond Cherry Blossom Festival is set amongst 255 Akebono cherry blossom trees at Garry Point Park, on the mouth of the Fraser River. The festival will feature a day of traditional Japanese music and dance performances, delicious food options and fun activities as celebrated in Japan.
Food Options
Visit the Matsuri Tent where traditional bento boxes and green tea will be sold from Takaya. There will also be a few Japanese inspired food trucks and Pajo's Fish & Chips will be open too.
Activities
The festival will have two stages in the Sakura Tent and Kuno Tent programmed with traditional Japanese dance, Taiko drumming and other talented musicians.
For more information, follow the City of Richmond events team @FunRichmond for more information.