The 7th Macaron Day in Vancouver is coming up on March 20th, joining bakeries, cafes and bistros around the world to support local causes, one sweet treat at a time.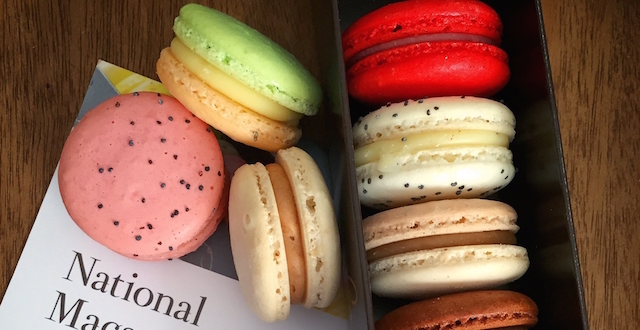 Macaron Day
Macaron Day was founded in France (le jour du macaron) by Pierre Hermé years ago. It's a day to celebrate the colours of spring with a bright palette of treats. Macaron Day events will be happening overseas, in New York, and in Toronto. Over the last few years it has become a Vancouver tradition as well.
Macarons (not to be confused with macaroons) are meringue-based confections commonly filled with buttercream or jam with a delicate soft and crunchy outer shell. All you need to do is visit a participating "Macaron Day" bakery or cafe on March 20th and you'll be given a macaron and be invited to make a donation their chosen charity.
Participants and Causes
1) Bon Macaron for BC Children's Hospital Foundation.
2823 W Broadway, Vancouver
When you purchase 6 macarons at any of their locations, $5 from each purchase will be donated to BC Children's Hospital. Bon Macaron is also hosting a Macaron Day contest.
2) Soirette for Make a Wish Foundation BC Yukon.
1433 W Pender, Vancouver
Soirette is offering a box of 6 macarons for half price and 100% of sales from the first 50 boxes will benefit Make a Wish BC.
3) Meinhardt South Granville for Africa Community Technical Society.
3002 Granville St, Vancouver
Meinhardt is giving out salted caramel macarons between 2:00 and 6:00pm. They will also donate $5 to Africa Community Technical Society for every 6pc box sold.
4) TWG Tea
1070 W Georgia St
Select various hued gift boxes of 6, 12 or 20-count of TWG's signature tea-infused macarons, priced at $18, $36, and $72 respectively. Enjoy a special 1 for 1 promotion on all macarons purchased between 20th to 22nd March 2018, while stocks lasts at the TWG Tea Salon & Boutique on West Georgia. *Note: No charity component for this promotion.
Do you know of any more locations? The list will be updated as offerings and specials are announced.