Enjoy some Easter fun for adults and kids in a spectacular setting! Visit the Sea to Sky Gondola for Easter Egg Collection & Brunch on Sunday, April 1st.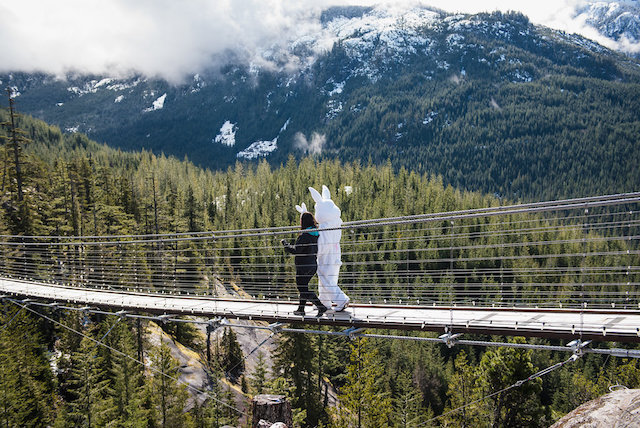 Easter Brunch at the Sea to Sky Gondola
When: Sunday, April 1, 2018 seatings at 10:00am and 12:00pm
Where: Sea to Sky Gondola's Summit Lodge
Tickets: Call (604) 892-2551 to book. Meal & lift ticket for adults is $72.69, kids (12 and under) $32.32. Annual pass members SAVE over $30! The Easter Egg Hunt is complimentary with a valid day ticket/season pass. Brunch requires pre-payment.
Brunch Menu
Beverages: Orange juice, Apple juice and Cranberry juice, coffee and Tea
Continental Breakfast Dishes: Assorted fresh baked pastries, cinnamon buns and fruit compote, yogurt parfait, fresh fruit cups, asparagus quiche
Brunch Dishes: Smoked salmon + cream cheese quiche; Scrambled eggs, bacon, breakfast sausages and pancakes; Roasted red pepper and goat cheese frittata; Roasted tomatoes, Portobellini Mushrooms and Grilled Asparagus; Potato Hash
Desserts: Assorted fresh pastries (cakes, squares and Easter cookies)
10:00am is the first brunch seating, then from 10:30am to 12:00pm there will be Easter egg gathering on one of the Summit Trails. Visit forest woodland characters to collect your chocolate eggs at your own pace.
12:00pm is the second brunch seating. Reservations are required for all seatings.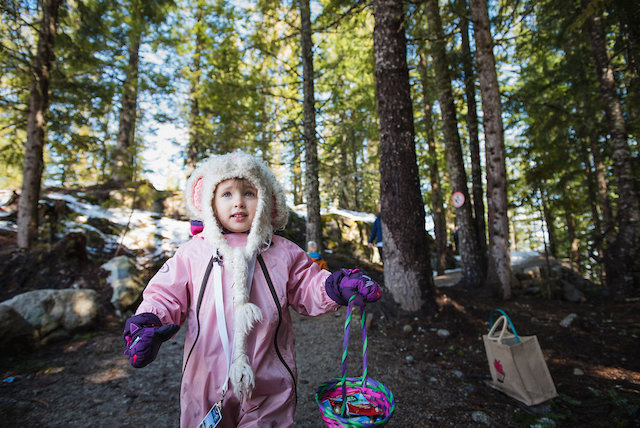 Easter Activities
There will be arts and crafts in the Summit Lodge, with festive colouring pages and other DIY crafts. Stop by Bodhi's outdoor plaza for maple taffy and other family snacks.
Follow the Sea to Sky Gondola on Facebook, Instagram, and Twitter for more information.