The Vancouver International Dance Festival ("VIDF") proudly announces its 2018 season featuring a diverse and dynamic roster of internationally celebrated artists and local favourites, presenting three weeks of endlessly enriching performances, workshops, and a host of dance activities at various venues across the city.
The 2018 VIDF will present three Canadian premieres from New York's acclaimed contemporary company White Wave Dance, Mexico's Compañía de Danza Experimental de Lola Lince, and Hungary's Ferenc Fehér; a Western Canadian premiere of New York's Shen Wei Dance Arts; a West Coast premiere from Montreal's Lucie Grégoire Danse; and a world premiere from Vancouver's own Amber Funk Barton/the response., among many others.
Vancouver International Dance Festival
When: March 1 to 24, 2018
Venues & Ticketing:
Vancouver Playhouse: Adults $65, Seniors/Students $55, Groups of 10 or more $45 (please call VIDF box office at (604) 662-4966 for group sales).
Roundhouse Performance Centre, Scotiabank Dance Centre regular ticket prices are Adults $30, Seniors/Students $25, and Groups of 10 or more $20 (please call VIDF box office at (604) 662-4966 for group sales).
KW Production Studio: Adults $15, Seniors/Students $10, Roundhouse Exhibition Hall: Free with VIDF Membership ($3); Woodwards Atrium: Free.
Vancouver Playhouse
Shen Wei Dance Arts (New York)
Folding and Rite of Spring
Vancouver Playhouse, March 2 & 3, 8:00pm
Widely celebrated for their mesmerizing movement, striking beauty and elegant expression, New York-based contemporary dance company Shen Wei Dance Arts will leave an indelible impression with their Western Canadian premiere. They will present two dazzling pieces by Artistic Director and Choreographer Shen Wei.
Get tickets »
Scotiabank Dance Centre
Amber Funk Barton / the response.
VAST
Scotiabank Dance Centre, March 1 & 2, 8:00pm March 3, 2:00pm & 8:00pm
As part of VIDF and the response.'s 10th Anniversary season, Vancouver's own Amber Funk Barton performs her first full-length solo in the world premiere of VAST. The rhythm of the body is relentless and its relationship to the universe is constant. The properties found in our blood and bones are also present in the stars. Inspired by personal travels and universal space, VAST is an ode to the explorer that resides in all of us and represents the traveler and the dreamer who wonders what resides beyond the edge.
Get tickets »
Roundhouse Series
Dancers Dancing (Vancouver)
Confabulation
Roundhouse Exhibition Hall, March 8 to 10, 7:00pm
Confabulation is inspired by memory and lives well lived. Choreographed by Judith Garay and performed by Jane Osborne, Bevin Poole and Garay, the piece adheres to the Tennessee Williams quote that "…life is all memory, except for the present moment…" Threads of thought and memory ferment inside the work, filled with struggle, tenacity and joy. Confabulation lives on the edges of mind and memory – looking back to see tomorrow and yesterday. It is grounded in uncertainty and the belief that false memories and imagination are an ineluctable aspect of our past and bring multiple dimensions to our present.
Get tickets »
EDAM (Vancouver)
Hindsight, Sinking SuZi, and Engage the Feeling Arms
Roundhouse Performance Centre, March 8 to 10, 8:00pm
Three stirring works will showcase the creative highlights of EDAM's Artistic Director Peter Bingham's illustrious career, which has spanned over four decades: Hindsight is a seminal work originally created in 1995, and reveals Bingham's evolution as a choreographer. Loaded with imagery of sadness and longing, dancers Kelly McInnes and Olivia Shaffer are like birds that have forgotten how to fly as each movement evokes a sense of heartache and loss.
Originally commissioned by Ziyian Kwan in 2002, Sinking SuZi was reworked in 2009 and will see its third incarnation at this year's festival. Kwan will perform in this sparse and elegant study of physical presence, which speaks to the evolving mentorship between Bingham and Kwan: teacher to student, choreographer to interprète and most recently, artist to artist.
Performed by Walter Kubanek, Diego Romero and Olivia Shaffer, Engage the Feeling Arms is representative of Bingham's current work. A complex and constantly fluctuating piece, this dance is about shifting relationships, fluidity, shared imagery, and dynamic physicality.
Get tickets »
Goh Ballet (Vancouver)
Selections from Paquita, Persuit, Pas de Trois from Swan Lake, Four Little Swans from Swan Lake, Winter from The Four Seasons, and The Bureau
Roundhouse Exhibition Hall, March 15 to 17, 7:00pm
With a wide-ranging and ever-expanding repertoire that encompasses classical and contemporary ballet, jazz, character, and national dance, the Goh Ballet enjoys international acclaim.
Get tickets »
Ferenc Fehér (Hungary)
IMAGO
Roundhouse Exhibition Hall, March 20 to 21, 7:00pm
Choreographed, composed and performed by Ferenc Fehér, the Canadian premiere of IMAGO is an award winning tour-de-force that investigates questions of masculinity and emotion. Fehér's signature combination of freestyle dance, animal movements, and contemporary dance create an engrossing experience of primal vulnerability and raw emotion.
Get tickets »
White Wave Dance Company (New York)
iyouuswe
Roundhouse Performance Centre, March 15 to 17, 8:00pm
VIDF is pleased to present the Canadian premiere of White Wave Dance's iyouuswe. Born from an exciting collaboration between WHITE WAVE's artistic director, Young Soon Kim, and its nine dazzling dancers, iyouuswe has been hailed by Backstage as "an extremely well crafted, visually stunning, and emotionally rich work." Scored to original music by long time collaborator Ki Young, this uninterrupted 65-minute journey will challenge audiences to examine who we are and how we relate to ourselves, and to each other.
Get tickets »
Lucie Grégoire Danse (Montreal)
Les Choses dernières
Roundhouse Performance Centre, March 20 to 22, 8:00pm
Lucie Grégoire presents the West Coast premiere of Les Choses dernières, an emotional work freely inspired by Paul Auster's novel In the Country of Last Things, which enjoyed its world premiere at l'Agora de la danse in 1994. Acclaimed dancer Isabelle Poirier performs in this remount and becomes a woman emerging from the night, as if from a hidden, obscure territory. Lighting by Alain Lortie and music by Robert M. Lepage will enhance this work, enveloping the stage in a cinematic aura filled with a veiled, yet inflamed sensuality.
The Biting School (Vancouver)
Disagreeable Tales
Roundhouse Exhibition Hall, March 22 to 24, 7:00pm
Co-founded in 2015 by multi-disciplinary artists and brothers Arash and Aryo Khakpour, The Biting School specializes in dance, theatre, and performance art that explores social dynamics, historical roots, and political issues on a physical and visceral level. Inspired by a compilation of Christian moral tales written by Leon Bloy, Disagreeable Tales is an exploration of the violence, cruelty, and perversions in and around us.
Compañía de Danza Experimental de Lola Lince (Mexico)
Estudios y Fragmentos Sobre el Sueño (Studies and Fragments on Dreams)
Roundhouse Performance Centre, March 23 & 24, 8:00pm
Choreographed by Natsu Nakajima and Lola Lince and making its anticipated Canadian premiere, Estudiy Fragmentos Sobre el Sueño explores the dichotomies of light and shadow, night and day, northern and southern hemispheres, wakefulness and sleep. Dreams, as an inexhaustible creative source, provide the inspiration for mesmerizing journey into the subconscious expressed through movement.
Get tickets »
KW Production Studio
pataSola dance (Vancouver)
RIFT
KW Production Studio, March 22 to 24, 5:00pm
In this compelling world premiere, pataSola dance mixes elements of Flamenco and Butoh with archetype, myth, and legend in response to global femicide. RIFT bears witness to the deep pain of women everywhere who address the loss and harm of gender violence in order to restore awareness and advocate for change. Inspired by the power of Butoh and the Cante Hondo (deep song) in flamenco, this work explores the lament and struggle associated with the search for collective renewal.
Get tickets »
Enter to Win
I have a VIP Vancouver International Dance Festival Experience to give away that includes a $100 gift card for dinner at Sorella on Cambie AND tickets to all of these performances:
Shen Wei Dance Arts on March 2 at 8:00pm at Vancouver Playhouse
EDAM on March 8 at 8:00pm at Roundhouse Performance Centre
White Wave Dance Company on March 15 at 8:00pm Roundhouse Performance Centre
Lucie Grégoire Danse on March 20 at 8:00pm at Roundhouse Performance Centre
Compañía de Danza Experimental de Lola Lince on March 23 at 8:00pm at Roundhouse Performance Centre
pataSola dance on March 24 at 5:00pm at KW Production Studio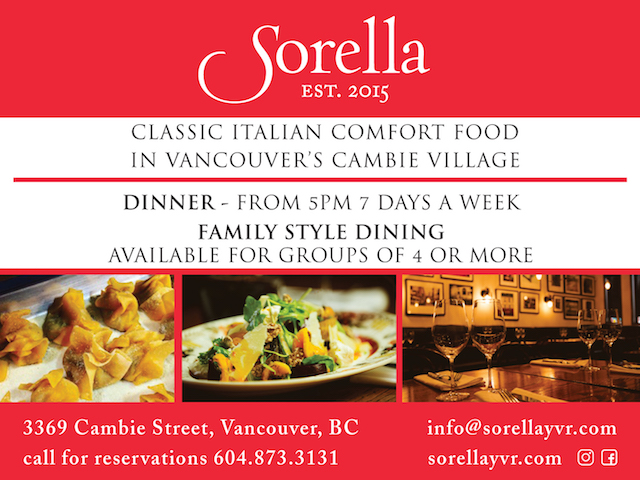 Here's how you can enter to win:
Leave a comment on this post (1 entry)
Like, comment on, or share this Facebook post (1 entry)
Click below to post an entry on Twitter
Click to enter via Twitter
Click To Tweet
I will draw one winner at random from all entries at 12:00pm on Tuesday, February 27, 2018.
Follow the Vancouver International Dance Festival on Facebook and Twitter for more info.
Update The winner is Trish Lam!