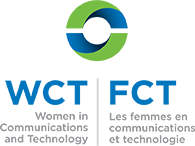 There's an exciting new organization and event series coming to Vancouver, which will aim to connect, inspire, and advance women in the communications and technology industries. I'm honoured to be on the Board of Directors for the newly rebooted Women in Communications and Technology, BC Chapter ("WCTBC") and we're ready to announce our first event!
Women in Debate: Is Technology Taking Our Jobs?
When: Tuesday, March 6, 2018 at 5:30pm
Where: BLG – 200 Burrard, 1200 Waterfront Centre, Vancouver
Tickets: Register online today. The cost is $25 for WCT members and $35 for non-members.
Automation, driven by technological progress, has been expanding for the past several decades. As the pace of development increases, so has the urgency in the debate about the potential effects of automation on jobs, employment, and human activity. Will new technology spawn mass unemployment, as the robots take jobs away from humans? Or is this part of a cycle that predates even the Industrial Revolution in which some jobs will become obsolete, while new jobs will be created?
Debaters:
Christin Wiedemann – Co-CEO, PQA Testing
Kathy Gibson – President, Catchy Consulting
Laura Sukorokoff – Senior Trainer & Communications, Hyperwallet
Sally Whitehead – Global Director, Sophos
Based on the Oxford style debates popularized by the podcast 'Intelligence Squared', the BC chapter of Women in Communications and Technology brings you Women in Debate: Is Technology Taking Our Jobs?
About WCT BC
"We're a place where meaningful conversations and relationships happen, particularly surrounding how we can give more voice to and opportunities for women in leadership positions."
Briana Sim
This is the first event for the reboot of Women in Communications and Technology's BC chapter. Briana Sim, Co-Founder & COO, Radical I/O says, "I wanted to help create something bigger than myself, something that had impact and made being involved worth my (and others' time)." When Christin Wiedemann, Co-CEO, PQA Testing approached her to talk about the reboot, she jumped at the chance.
"I get so focused and busy on the day to day of running my tech business that I often forget to take the time to remember why I do what I do, and to connect with and learn from others in order to do an even better and more inspired job of it."
Christin and Briana took on the roles of Co-Chair and assembled the rest of the Board, which includes yours truly in the role of Sponsorships & Partnerships and some awesome women I've been happy to get to know over the last few months:
Strategic Development Director: Stephanie Redivo, Senior Program Manager, SAP
Membership & Programming Director: Fabiana Gennari, Senior Manager, Learning and Development, Sophos
Marketing & Communications Director: Victoria Cross, Market Manager – Canada, NationBuilder
Sponsorships & Partnerships Co-Director: Aimee Gagnon, Marketing & Operations Executive
Sponsorships & Partnerships Co-Director: Rebecca Bollwitt, Founder, sixty4media/Miss604
Events Co-Director: Tasneem Razvi, Supervisor – Sales, Rogers Broadcasting (CITY/OMNI/SPORTSNET)
Events Co-Director: Kelli Erickson, Project Manager, TELUS
"Empowering and promoting women in STEM is my "passion work", and to me it is important to engage with other women in Vancouver's tech industry in ways that are meaningful, rewarding and fun," adds Christin.
"The reboot of the BC Chapter of WCT offered me an opportunity to design the type of events I want to attend myself while working with Briana, who is a role model to me, and an important part of my peer network. That opportunity was too good to miss."
If you're interested in membership, you can sign up through the national organization here and select BC as your home chapter. We'd love to see you at the event on March 6th as well, all are welcome.