To cheer on Team Canada athletes and to honour and the 2018 host city Pyeongchang, South Korea, the Vancouver Convention Centre will light the iconic Vancouver Olympic Cauldron on Thursday, February 8th prior to the Opening Ceremony for the Olympic Games and
Vancouver Olympic Cauldron Lighting
The lighting will take place on Thursday, February 8, 2018 5:00pm to 7:00pm just ahead of the Pyeongchang Olmypics opening ceremony. There will be a brief celebration and remarks at 5:00pm by Honourable Lisa Beare, Minister of Tourism, Arts and Culture; Ken Cretney, President and CEO, BC Pavilion Corporation; Brent Hayden, Olympic Medalist and World Champion.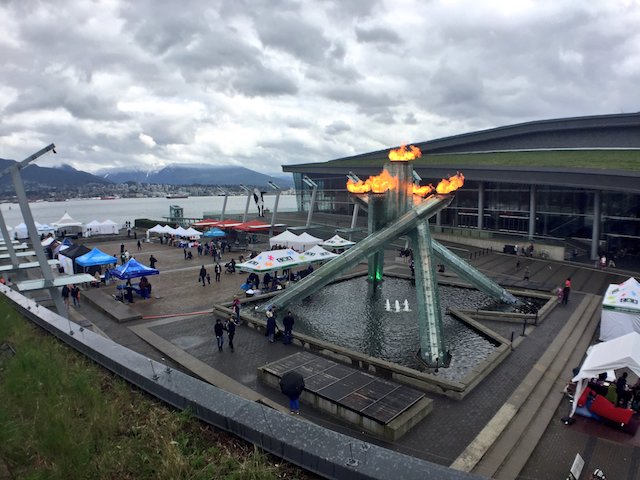 In addition, BC Pavilion Corporation ("PavCo") will show support for Canada's athletes competing in the 2018 Olympic and Paralympic Winter Games by lighting its venues in Canada's colours:
At the Vancouver Convention Centre, the Cauldron and facility district markers will glow red and white for the duration 2018 Olympic and Paralympic Winter Games.*
BC Place will glow in red on select days and feature a unique "Medal Ceremony" animation during opening and closing days and when Team Canada wins a medal.*
*with the exception of scheduled illuminations for events and community organizations
The Cauldron will also be lit on March 17th at 5:00pm, prior to the Closing Ceremony, for the Paralympic Games.