The 52nd Show of Hearts Telethon returns this Sunday on Global BC, supporting Variety – The Children's Charity of BC. Tune in to hear stories, watch performances, and get updates from children you met during Variety Week 2017.
Variety BC's Show of Hearts Telethon
When: Sunday, February 11, 2018 9:30am to 5:30pm
Where: Tune into Global BC live from the Molson Canadian Theatre at Hard Rock Casino Vancouver on television and live streaming online.
The entertainment line up includes Mathew V, The Matinée, Ty Waters and the return of "Working My Way Back To You – A Jersey Boys Tribute." Plus The Sojourners, The James Barker Band, Gentlemen's Quartet and a Buddy Holly Tribute.
You will be reintroduced to kids from past years whose lives have been changed thanks to donors like you. Learn more about Variety's granting programs and see firsthand where your dollars go.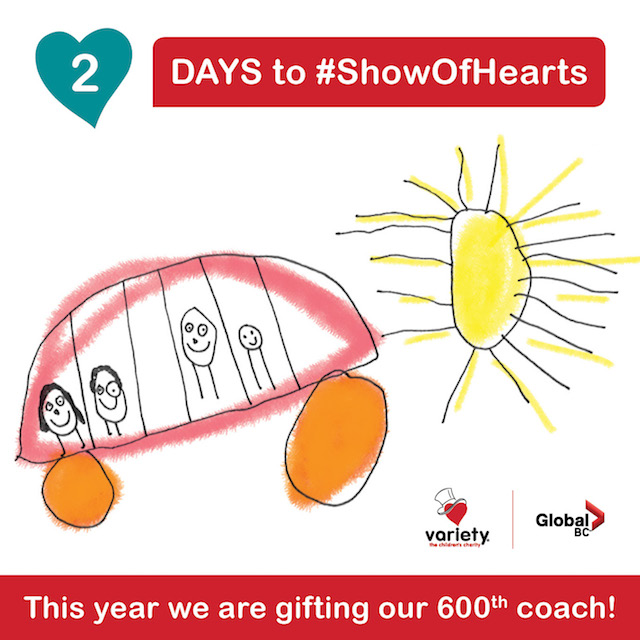 Sunshine Coach Program
At this year's Show of Hearts, Variety will be celebrating a very important milestone – Variety's 600th Sunshine Coach to hit the road in British Columbia.
It was 25 years ago when The PACE Program received a Sunshine Coach to use for their Family Program which offers intensive early intervention for young children with emotional and behavioural challenges and their families. Today, they are in urgent need for a new one. We are so pleased to announce that on February 11th because of our donors' commitment to this program, their dream of a new coach will be fulfilled.
Robert Bateman Poster
Back by popular demand, donors can once again receive an official Robert Bateman poster with a minimum donation of just $169! This year we will be featuring Robert Bateman's Water's Edge – Wolves poster and donors will have the opportunity to have their posters framed for an added $169 by GS & Company, with a portion being donated to Variety.
Lottery
Don't miss your chance to win one of three incredible prize packages in the Show of Hearts Lottery! There's an all inclusive trip to Los Cabos up for grabs along with a NASCAR Driver for a Day experience, and a luxury getaway in Charleston.
Ways to Give
Donate online, by phone 310-KIDS (5437) toll-free in BC, or by texting KIDS to 45678 to make an automatic $20 contribution.
About Variety
With your support, Variety – the Children's Charity steps in to provide direct help to children with special needs in BC. For over 50 years, Variety has ensured that children have the support they need to reach their potential and thrive.
Funding from Variety helps to cover costs for medical care and services, mobility and communication equipment, therapies and developmental programs not covered by private or public health plans.
Since 2010, Variety has distributed more than $30 million in funding to families and organizations in communities all across the province.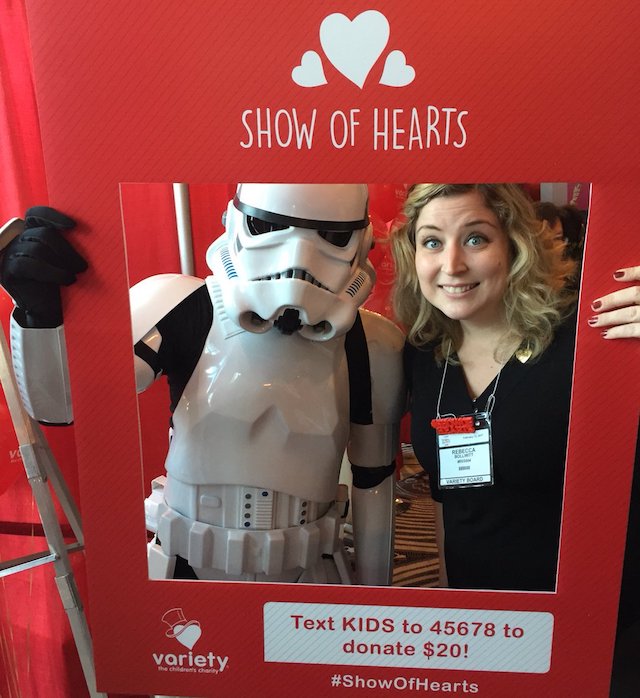 Miss604 is proud to return as the sponsor the Social Lounge at the Show of Hearts Telethon, where my team of amazing friends and colleagues — who all social media superstars — will be sharing updates throughout the day, from the VIP lounge, behind the scenes, with honoured donors, volunteers, performers and more. Follow along on social media using the tag #ShowOfHearts.
Rebecca Bollwitt is a member of Variety BC's Board of Directors and Miss604 is the proud sponsor of the Show of Hearts Telethon's Social Lounge