Our girls getaway was in full swing and the leis we received days before on our first night were still fragrant and supple. My sister and I spent the first half of our Maui getaway in the southernmost hotel of the Kaanapali Beach stretch and after a few days, for a change in scenery, we moved into the northernmost hotel property along the sandy coastline, the legendary Royal Lahaina Resort.
Once checked in in the tower lobby, we rode by golf cart, past groves of blossoming plumeria trees, to our cottage on the beach – and I mean it was on the beach. Right outside our back patio, framed by wind-swept palm trees and a protective knee-high hedge, was the golden sand of Kaanapali Beach. We hadn't put our luggage away yet, but we sat at our patio table, poured ourselves some Mai Tais, and took in our new view.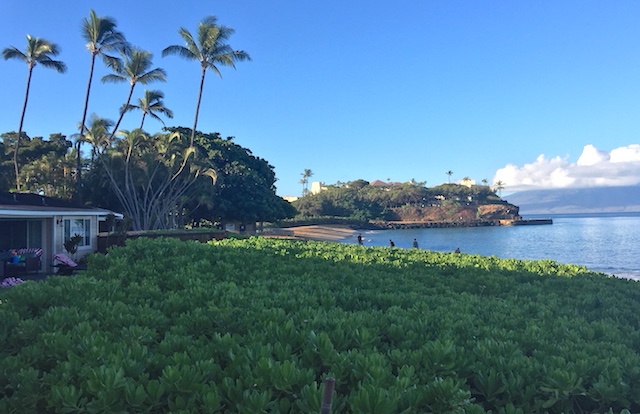 The Royal Lahaina Resort is 27 acres of tropical gardens, pools, 10 tennis courts, a 3,500 seat tennis stadium, and a golf course. Our charming beach cottage was bright and clean with plenty of room for two sisters, their luggage, souvenirs, and the occasional dance party while we got ready for an evening dinner. The tile floor kept the room cool, and helped with the inevitable need for sand management. The best part was that I could fall asleep with the sound of the breaking waves right outside my window.
We were in a ground floor unit but June Pagdilao, Regional Director of Sales, gave us a tour of the second floor cottage suites that would be perfect for large families. We didn't get to see it since it was occupied but the next door to us was also the Royal Beach House, a 1,600 sq. ft. unit that has its own pool, spa, waterfall, lawn and beach access.
June did take us to the Lahaina Kai Tower, where the rooms all had stunning 180+ degree views of the entire region.
The Royal Lahaina was built in 1962, starting the resort trend in the Kaanapali area, with the nearby Sheraton going up in 1963. June has some great black and white panoramic photos in his sales office that show the growth of the region over the last 50 years. Grab a cone at The Royal Scoop next door then pop by take a look for yourself.
Our visit to the Royal Lahaina was calm and soothing, which is what I wanted my sister to experience on this getaway (even though I had her do a 5km ocean kayak and half day zip line tour later on). There was a separate pool with bar area for cottage guests, just steps from our patio door, across the lush green lawn and running parallel to the beach.
We had coffee outside in the morning, while making friends with a local beach kitty and watching snorkelers bob about in the surf. The reliable Wi-Fi allowed me to catch up on work, because even getaways are never vacations for me, but I couldn't complain about my "office" at all that week.
The Royal Lahaina offers several vacation package options, including golf, sailing tours, spa, even an all inclusive option. The evening Myth of Maui Luau can be bundled in a package too. It's very popular, especially if you're celebrating a birthday, anniversary, or your recent tropical beach wedding on site.
It's up to you if you want to lay out on the lawn, or on the sand, with a playful mix of ocean spray and floral scents dancing around your sun-soaked face.
If you are feeling active, I highly recommend heading out for the morning with Maui Paddlesports. They have an outrigger canoe and tent setup right on the lawn at the Royal Lahaina and it's my favourite tour on the island.
The guides Delray and Mahe were enthusiastic locals, who just happened to be pro paddlers too, and you not only learn about local history and culture, you get a view of the entire Kaanapali area from the water, which is absolutely stunning. If you're lucky, and there during the right time of year, you'll paddle alongside humpback whales.
We loved our stay in the south, on the other side of the iconic Black Rock lava stone cliffs that bisect Kaanapali Beach, but we also adored our Royal Lahaina experience. You really can't go wrong in Kaanapali because you're either getting a full traditional Hawaiian resort experience, or you're getting an authentic tropical paradise-by-the-sea experience. It's hard to choose, so why not have it all.
Our stay was compliments of the Kaanapali Beach Association and the Royal Lahaina Resort. Views and opinions are my own, all other expenses were my own.