Vancouver sure is going to be fun in March! On top of the Juno Awards and Spring Break festivities, JFL NorthWest – Vancouver's Comedy Festival has just announced the JFL NorthWest Block Party which will take place outdoors at the Queen Elizabeth Theatre Plaza from Wednesday, March 7th to Friday, March 9th.
JFL NorthWest Block Party
Where: Queen Elizabeth Theatre Plaza (695 Cambie Street)
When: Wednesday, March 7 to Friday, March 9th from 5:00pm to 10:00pm
Admission: FREE!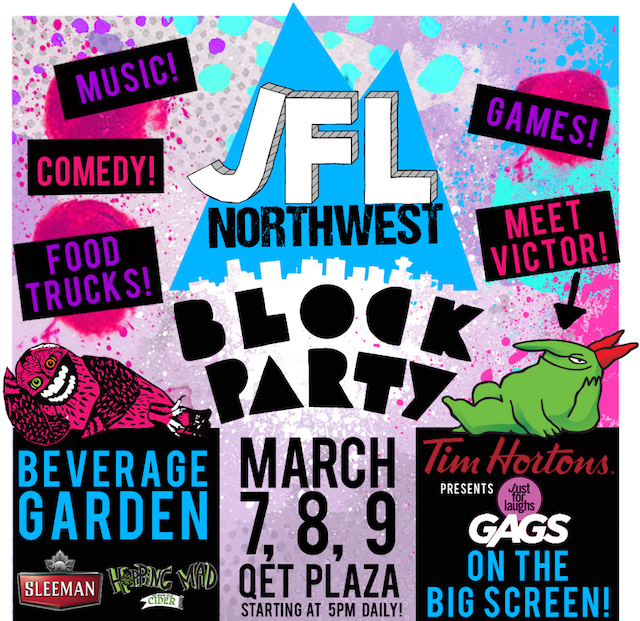 JFL NorthWest Block Party patrons will be entertained by various Just For Laughs stand-up specials plus Just For Laughs GAGS, presented by Tim Hortons, on the big outdoor screen and will be treated to performances by Coldwater Road's Patrick Spencer and music by Adrienne featuring Drix. Audiences can expect a few surprise special guests as well as meet and greets with Victor, the Just For Laughs mascot!
In addition to the outdoor entertainment, JFL NorthWest Block Party-goers can look forward to tasty food truck treats from The Reef Runner and Cheese Street Grill along with complimentary beverages from Tim Hortons, and libations from Sleeman Breweries and Hopping Mad Cider in the beer garden. The JFL NorthWest Block Party will also feature an LED Games Tent for anyone wanting to satisfy their ping pong and foosball needs.
Taking place March 1-10, Vancouver's Comedy Festival, JFL NorthWest is set to host over 100 comedians and performances across 30 venues throughout the city. This year's Festival will also feature the first edition of the "Vancouver Just For Laughs Film Festival" and the inaugural Vancouver Comedy Awards. With a total of six performances, from comedy giants Bill Burr, Trevor Noah and Jo Koy, taking place at the Queen Elizabeth Theatre over the course of the Festival.
Follow JFL NorthWest on Twitter, Facebook, and Instagram #JFLNW18.