Groundswell is an alternative business school where young ideas and budding social entrepreneurs connect and flourish. On March 6th, they'll host their 7th showcase featuring their latest cohorts who will reveal their social ventures, stories and projects to you from the stage and invite you to be some of their first fans from their marketplace tables.
Groundswell Social Venture Showcase #7
When: Tuesday, March 6, 2018 5:30pm to 9:00pm
Where: Performance Works (1218 Cartwright St, Granville Island)
Tickets: Available by placing a donation online.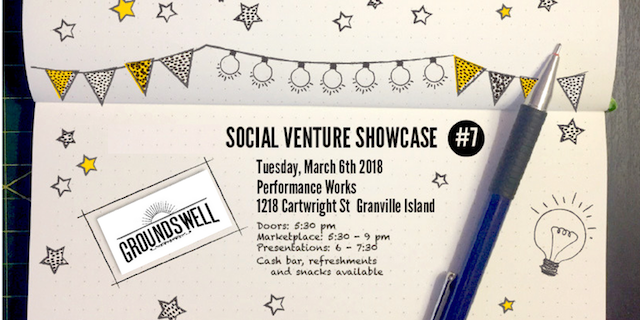 The Social Venture Showcase will have writers, art parties, builders, multicultural and raw food eats, a space in the future for gender queer folk, skill sharing communities and (viewer discretion is advised) custom sex toys. In the marketplace, check out demo booths for the new ventures, meet the entrepreneurs and see what a few of our past program participants are up to with a special mini alumni market.
There will be a time for presentations at 6:00pm where each member of this year's Social Venture cohort will share their story and social business idea to the world for the first time. The event will have a cash bar, food for sale, and some complimentary snacks.
From the organizers: "This is our chance to show the world who we are and what we believe in: a more beautiful world that we're building together with social ventures like the ones you'll meet tonight where all of our unique talents get to shine in a local, vibrant, and collaborative economy. You'll also get the chance to become a Groundswell member, learn more about our refreshed social venture and self employment programs, and get a taste for our unique Test Market model."
Follow Groundswell on Facebook, Instagram, and Twitter for more information.