I was sitting across from my mother at the Knight & Day on Boundary Road, ready to enjoy second breakfast in the early afternoon. When it came time to order she triumphantly flipped her menu over, in one bold gesture to proudly announce that she was going to order from the seniors' menu.
"You're a senior?" our server said incredulously, a smile followed. "I might have to see some ID." My mom's eyes lit up like a recent 19 year old getting carded at the Cold Beer & Wine. She would have proudly shown her identification, having turned 65 last May, but after an exchange of blushes and giggles, and proclaiming that she's indeed old enough to have a child as old as I am, her order was placed.
My mother is a very proud senior and she's been enjoying her retirement by traveling, spending time on her hobbies, and going for coffee chats with friends. One thing she's also enjoying are seniors' discounts so I decided to compile a list for her, that I'm happy to share here as well.
Discounts for Seniors in BC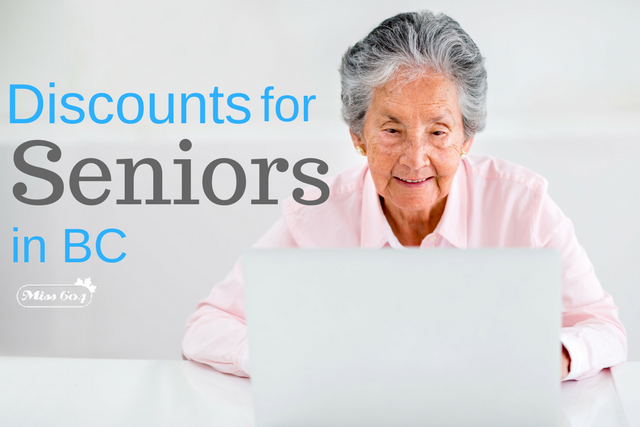 I found a great list courtesy of CARP, the Canadian Association of Retired Persons, as well as one from 411 Seniors*.
Shopping
On the last Thursday of every month, Shoppers Drug Mart offers 20% off for customers 65 and older, if you have an Optimum card.
The Bay offers 15% savings to people 60+ on the first Tuesday of every month.
Salvation Army Thrift Stores offer a 10% savings every day to everyone 60+.
Most Banana Republic stores offer a discount to people 50+. The discount varies by location, so you need to ask at the store.
Laura Secord offers a 15% senior's discount on the first Monday of every month.
Some Home Hardware stores offer discounts.
Seniors citizens are eligible for a 30% discount every Tuesday at participating Value Village outlets.
Senior citizens who are 60 or older can get 10% off their order at participating Salvation Army Thrift Stores.
Ming Wo Cookware for seniors 60+, get 20% off on the first Monday of the month, regular priced items only.
Travel & Transportation
Banking
Scotiabank offers seniors a free basic account, and other discounts.
TD offers a rebate of up to 25% on monthly chequing fees for people 60+.
RBC offers rebates to people 65+.
CIBC has a 60 Plus Advantage program.
BMO offers discounts to people 60+.
Arts & Entertainment
All Cineplex theatres offer seniors discounts usually of 20% or more. Inquire at time of ticket purchase online or in person.
The Vancouver Art Gallery offers admission by donation for all seniors (65+) on the 1st Monday of every month, from 10:00am to 1:00pm.
The Museum of Vancouver (MOV) has $5 admission for seniors (65+) on the first Tuesday of each month. Take a stroll through the Vancouver History galleries or check out the featured exhibitions. For January 2019 they are adding 3 additional senior days in January:Tuesday, January 15, 22nd and 29th.
The UBC Museum of Anthropology offers a 10% discount to seniors 65+.
Seniors Day at the Fair at the PNE (August 22, 2019). Seniors 65+ receive free gate admission and free Ferris Wheel rides (West Coast Wheel)
*Offers may vary depending on the location. The list from CARP was published in 2016. The 411 Seniors Centre Society list was published in 2014.
You can also find programs for seniors at your local community centres, for example in Vancouver and Surrey. Additional resources can be found through the Senior Services Society.
Of course many great local attractions and events have rates for seniors as well. If you know of a great discount that's available in BC, please feel free to leave a comment and I'll add it to the list.