Singer and songwriter Dan Davidson says it's hard to grow up on the prairies and not have a little country in you. He's got 40 shows on the horizon for 2018 but he took some time to chat with me earlier this week about how he went from a rocker to a successful independent country artist, and how Vancouver once broke his heart but has since made amends – which is a good thing since he's here for two shows in March.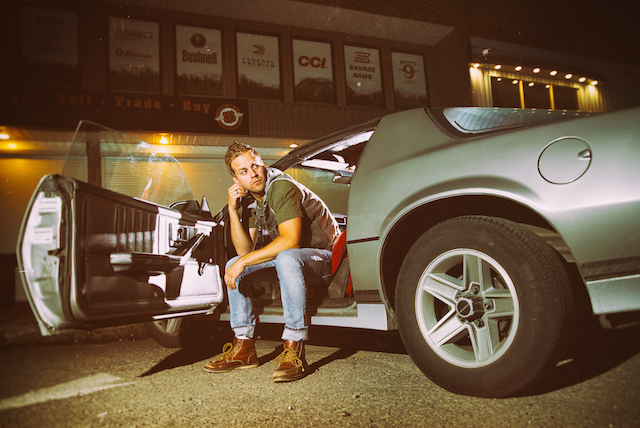 "I grew up listening to my parent's music, as most people do, and for my dad it was always Willy Nelson, Johnny Cash, Lyle Lovett, and Blue Rodeo and bands like that so that's always been on for me, and it's always been in the back of my brain." Dan has been a part of St. Albert/Edmonton, Alberta's post-grunge rock band Tupelo Honey since 2003 but the transition to country came naturally for him.
"After the band shut down I started writing on my own a little bit. I didn't really mean to make it country but everything that was coming out of me was just naturally that way."
This year his single Found was GOLD-certified, making him one of the only truly independent artists to earn this status in 2017.
"I just have my head down and I'm just swinging and it's feeling right at home. Stuff is just kind of clicking more than it's ever clicked for me."
Having switched gears and genres, Dan gives a lot of credit to the Canadian country music scene – and Canadian country radio. "Everybody's so cool in country, that was the first thing I noticed what I started becoming part of the scene is that it's way more of a collaborative feel than a competitive feel."
"It's weird I've never been a part of such a fun collective before, it's inspiring and it really charges me up to work hard and show my friends what I can do." Along with that hard work comes a lot of fun and good times as well, as evidenced in Dan's music videos. In particular, the Star Trek-themed video for Say We Did which involved $400 worth of cardboard, and a cameo from his wife and daughters.
Or the video for Found which won the Alberta Country Music Award for Video of the Year in 2016:
And the video for Barn Burner in 2017:
For Dan, being a solo country artist is something new, however the time spent on the road is very familiar. "I kind of settled in after the band slowed down and I was trying to get the country thing on its feet a little bit. But now it's just back to go time!"
He has spent a fair share of time in Vancouver, and while the first few visits left a sour taste in his mouth – a van break-in or three can do that to an artist – he's changed his tune in recent years.
"Every time I've been [to Vancouver] it's been gorgeous and sunny. I've had the best food and the best craft beer, and great musical experiences with so many fantastic studios." On top of connecting with industry friends, his sister is also based in Vancouver and his wife will be coming along for the two shows at the Vogue. "I have totally, 100% changed my view on Vancouver and I love it out there."
With his family, friends, industry, and a growing and enthusiastic fan base cheering him on – not to mention being the recent recipient of 4 Alberta Country Music Awards and first place ($10K) prize at the Edmonton Music Prize gala – I'd say that little bit of country is doing Dan a whole lot of good.
See Dan Davidson at the Vogue Theatre
Dan Davidson will be performing at the Vogue Theatre in Vancouver on March 23 & March 24 as a part of the Brett Kissel We Were That Song Tour 2018. Tickets are on sale now. Follow Dan on Facebook, Instagram, and Twitter for his latest updates.