Guest post contributed and written by Jen Murtagh..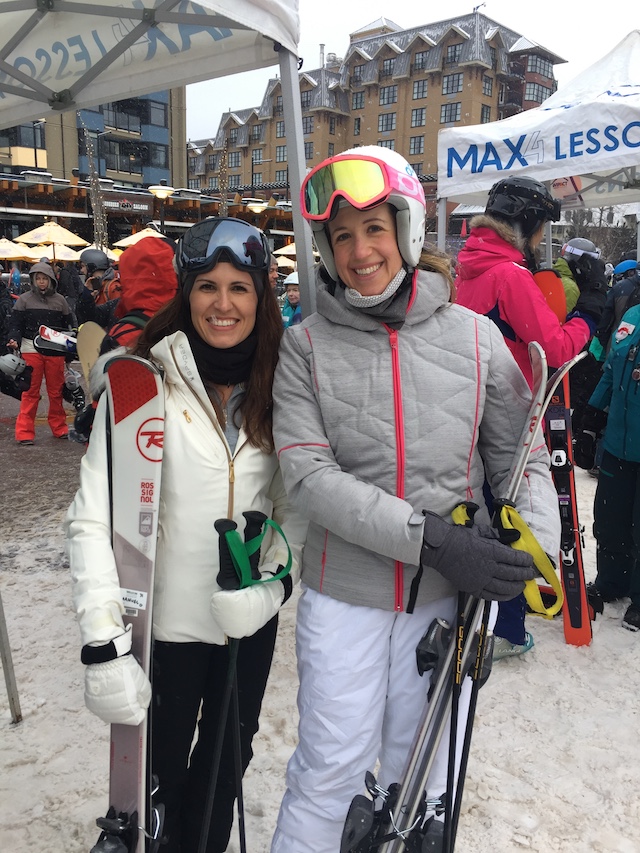 Whistler for Beginners: Learning to Ski as an Adult
As a child of Irish immigrants, skiing wasn't exactly at the top of our family activity list growing up, and although a classic Canadian tradition, I never felt like I was missing out. That all changed when I got to high school and my circle of friends seemed to spend every other weekend on a mountain. I was asked to join numerous times but always felt sheepish (actually downright embarrassed) that I hadn't learned to ski.
In college, my FOMO reached an all-time high and I agreed to join a big ski trip with friends and overcome my fear. Unfortunately, I spent most of my time on my backside and was on the receiving end of one too many good spirited jabs from my friends to endear me enough to continue the sport. I decided I was fine with partaking in apres ski, cute toque and all and simply enjoying the clear, crisp mountain air. For years I have enjoyed coming to Whistler and hiking, snowshoeing, tubing and just being away from the city.
This year I felt something shift for me. I've realized that it's been fear of failure that has been holding me back from learning to ski and I've decided my word for 2018 is going to be CHALLENGE. So I booked two days of skiing lessons and rentals in Whistler and accepted my internal challenge to get outside my fear bubble.
Whistler Blackcomb Snow School is regarded as one of the best ski and snowboard schools in North America and they offer a variety of lessons from first time skier to expert. I showed up to my lesson at the base of Whistler Mountain full of trepidation and a bit of skepticism. Was I really going to learn to ski in one or two days? Was it going to be me and a bunch of kids? As other adults began to show up I chatted nervously with a woman who was downright petrified, which actually made me feel a little better!
Our ski group resembled the United Nations with an American, Malaysian and Brit. Our instructor Rob had a lengthy 33 year skiing history and was a previous ski patroller. Nothing like having a leader with industrial first aid to guide you, just in case!
We skipped the gondola line-up and fast tracked up to mid-station on Whistler Mountain. The impressive and expansive learning area was full of every age group. To be honest, the four year olds might be the most terrifying part of the mountain as they go whizzing by you with no poles, or fear for that matter.
Before we hit the bunny hill, Rob walked us through a warm up and fundamentals of positioning. After much practice, we graduated to the magic carpet which guides you a little further up the hill so you can start putting your new techniques into action. We were moving from a V (snowplow position) into turns quite quickly and moved along to the "fantastic carpet" which is a little further up the hill. The learning area overall is not steep so you have ample opportunity to practice without picking up too much speed. I felt completely at ease as I looked around, marvelling at all the adults on the hill learning how to ski later in life, many of them in their 50s and 60s.
The lesson gave me the confidence and techniques I was looking for and the trepidation I was feeling earlier in the morning dissipated quickly into my lesson. Being out in the mountain air, surrounded by the beauty of Whistler with so many others gave me the sense of belonging to a real community and by day two, I was proudly able to glide down some green runs on my skis (and not my backside!) I am now looking into purchasing my own skis and will be returning to Whistler soon. Challenge accepted 2018!
Where to Après
Après-ski is a must. Dusty's Bar & BBQ at the bottom of Whistler Creekside is a local's favourite. Their ridiculously delicious nacho platters, beer specials and lively bands (check out The Hairfarmers) make this my must visit once your legs get too tired for any more runs.
If you're skiing Blackcomb, give The Mallard Lounge at the Fairmont Chateau Whistler a try – apparently they have a child-minding room.
For Dinner
Once you wake up from your post Apries-Ski nap, check out Hy's Steakhouse for dinner. Located in the heart of Whistler village, Hy's has been voted "Best Steak" by Whistler's Pique Newspaper and recently received 'Best Server' award as well. Their extensive cocktail list, Canadian prime steaks and mouth-watering seafood choices never disappoint. My personal favourites include their famous cheese bread, sautéed prawns and seared jumbo scallops.