'Tis the season for wedding shows in Vancouver and the Fraser Valley! A friend of mine got married last year and she, and her lucky groom, enjoyed going to wedding shows so much that she joked that they were planning another wedding right after they tied the knot. If you're looking for inspiration, vendors, photographers, prize opportunities, and much more, check out this lineup of events over the next few months that will all make your special day that much more personalized and magical.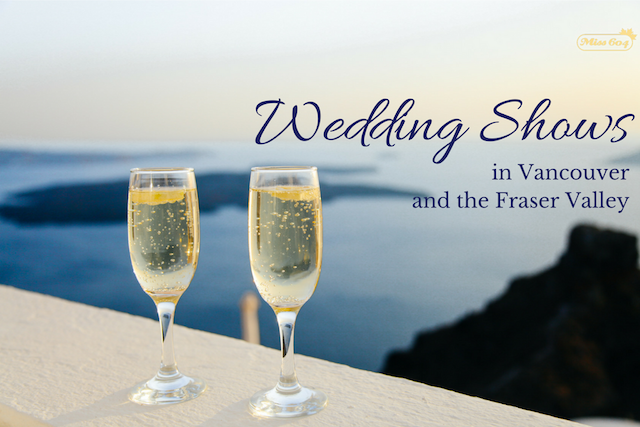 Wedding Shows in Vancouver and the Fraser Valley
Biggest Little Bridal Show
Website | Registration | Facebook | Twitter
Where: Pitt Meadows Golf Club (13615 Harris Road, Pitt Meadows)
When: Sunday, January 21, 2018 from 11:00am to 3:00pm
Details: This high end show will be showcasing multiple different vendors. Including photo/video, decor/floral, cake, hair & makeup, DJ, limo, favours, jewelry, stationary. Limiting the amount of each type of vendor so you will be able to see, meet, and experience different styles and variety without being overwhelmed. Showcasing reception set ups to help you visualize your wedding day. Talk to our feature decorator to discover your wedding style.
FLEUR Luxury Wedding Show & Forum
Website | Registration
Where: JW Marriott Parq Vancouver (39 Smithe St, Vancouver)
When: Sunday, January 21, 2018 from 10:00am to 5:00pm
Details: FLEUR is a luxury wedding show and forum produced by Aly Armstrong Event Planning & Design, and hosted by the JW Marriott Parq Vancouver Hotel. FLEUR is the city's first wedding show to bring together elite industry professionals and celebrity influencers, offering guests hands-on workshops, a panel discussion and fashion presentation. A luxury décor walk will take guests on a sensory journey to five different cities around the world. Guests will peruse through luxury details and trends in a fully immersive setting that boasts a French flare. ​
Wedding Show at the Plaza
Website | Registration | Facebook | Twitter
Where: Executive Plaza Hotel Metro Vancouver (405 North Road, Coquitlam)
When: Sunday, March 4, 2018 from 1:00pm to 5:00pm
Details: A day of nuptial fun with over 40 vendors from around the Lower Mainland. There will be scrumptious appetizers floating around, wine samples from local vineyards, some of the best vendors in the industry and of course, prizes! Tickets are FREE, but required for entry. RSVP via Facebook "Get Ticket" button. Show your Ticket at the Wild Fig Lounge on March 4th between 10:30am and 2:30pm to enjoy the Plaza's Signature Brunch Buffet 2 for 1.
A Wedding Affair
Website | Registration | Facebook
Where: River Rock Casino Resort (8811 River Road, Richmond)
When: Sunday, February 25, 2018 from 12:30pm to 4:30pm
Details: Exciting prizes will be given out from each exhibitor, expert knowledge from a wide selection of local wedding suppliers, and great visual ideas will be given to the brides to help them envision the wedding of their dreams. In addition, guests will get to taste and enjoy the fine cuisine of the River Rock and a glass of wine.
All Dressed in White
Website| Facebook | Twitter | Tickets
Where: Sheraton Vancouver Guildford (15269 104th Ave, Surrey)
When: Sunday, January 28, 2018 from 10:00am to 2:30pm
Details: From spectacular fashion parades to leading wedding suppliers, give-aways and prizes. Brides and grooms can visit our bridal showcase in sourcing the most affordable and reputable wedding industry suppliers in the BC Lower Mainland. First 100 Brides receive a Lucky Bridal Bag. 12:00pm Fashion Show with Everything but the Groom; 2:00pm Prize Giveaways.
Fraser Valley Wedding Festival
Facebook
Where: Cascades Casino Resort (20393 Fraser Hwy, Langley)
When: Sunday, April 8, 2018 12:00pm to 4:00pm
Details: Brides and Grooms enter free, and all other adults are just $10. Tickets are limited for this always-popular event, so be sure to secure yours in advance. Kids 12 and under are free. Show Highlights include: Industry wedding specialists, complimentary gift bags, door prizes, cake-off decorating contest, and fashion show.
Swank Wedding Show
Website | Registration | Facebook
Where: Pan Pacific Hotel Vancouver (300 – 999 Canada Place, Vancouver)
When: Saturday, February 10, 2018 from 10:00am to 4:00pm
Details: The Swank Wedding Show & The Groom Show with beloved wedding planner – the I Do Planner (formerly, the "Best Day Ever Planner") – who will be available for grabs for all the lovely couples attending. Tickets include a complimentary glass of wine and a goodie bag valued at more than $50 for the first 250 couples/brides registered.
Spring Wedding and Honeymoon Show
Website | Facebook | Twitter | Tickets
Where: Delta Hotels by Marriott Burnaby (4331 Dominion St, Burnaby)
When: Sunday, March 25, 2018 from 11:00am to 4:00pm
Details: Top wedding and honeymoon professionals showcase the very best in the Lower Mainlands's wedding industry. In celebration of BC's multicultural flair, the Spring Wedding & Honeymoon Show has also invited some of the best Wedding specialists to lend their expertise and inspire your creative spirit. Fabulous grand prizes, luxurious dresses, culinary creations, delicious décor, and inspiration a plenty.
BeYOUitful Bridal Wedding Show
Website | Registration
Where: Guildford Golf & Country Club (7929 152 Street, Surrey)
When: Wednesday, February 21, 2018 from 5:00pm to 8:00pm
Details: 20+ vendors, free parking, and door prizes. Enjoy this the romantic setting and meeting boutique brand partners. There will be appetizers and light beverages also served. Entry is Free for Brides & Grooms that PRE-Register. Guest tickets are $5. Door Tickets are $10.
2018 Vancouver Destination Wedding & Honeymoon Expo
Website | Registration | Facebook
Where: Executive Airport Plaza Hotel (7311 Westminster Highway, Richmond)
When: Tuesday, February 27, 2018 from 6:00pm to 9:00pm
Details: Free destination wedding consultations 5:30pm, doors open at 6:00pm, food and trade show 6:00pm to 7:00pm, presentations 7:30 to 8:30pm, prizes and Q&A 8:30 to 9:00pm. Attendees can obtain a parking pass for $8 from the front desk or feel free to take the Sky Train – Canada Line Station. Free admission.
The Original Bridal Swap
Website | Registration
Where: Croatian Cultural Centre (3250 Commercial Drive, Vancouver)
When: Sunday, March 11, 2018 from 11:30am to 2:30pm
Details: The original bridal swap will feature gently used wedding decor, wedding dresses, craft artisans & a few select wedding vendors. Free parking.
Have more events to add? Submit them here.