Flight of the Dragon is back at FlyOver Canada for a limited time! During this special feature, you'll first follow a mythical dragon as you soar over some of China's most spectacular landscapes and scenery – including the Great Wall of China, Zhangjiajie National Forest Park, the city of Shanghai and more. Then, you will take off again to experience FlyOver Canada, an exhilarating journey from east-to-west across Canada.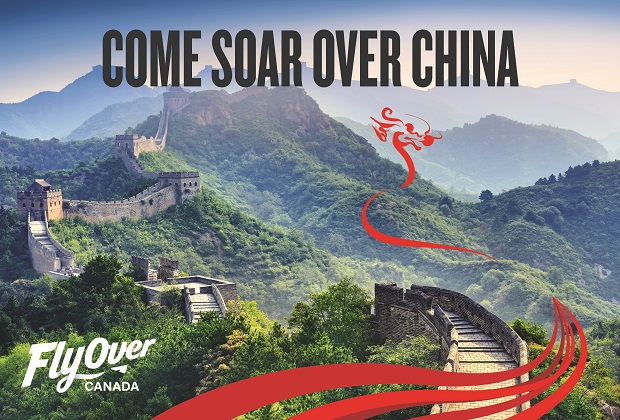 Soar Over China at FlyOver Canada
When: January 18 to February 18, 2018; 10:00am to 9:00pm daily
Where: FlyOver Canada (201 – 999 Canada Place)
Tickets: Buy tickets online and save 15%
The complete experience will last between 20 and 25 minutes and includes:
A celebratory Chinese New Year themed pre-show
Flight of the Dragon, a unique 6-minute flight ride experience over China
FlyOver Canada, a thrilling 8-minute flight ride experience coast-to-coast over Canada
Follow FlyOver Canada on Facebook, Instagram, and Twitter for the latest attraction updates.
Children must be at least 102cm (40″) to participate on the ride. Children 12 and under must be accompanied by an adult or guardian aged 14 years or older.