This morning the Vancouver Aquarium sent out a special message from their President & CEO John Nightingale, which I received by email. "I want you to be among the first to know that we will continue our commitment to ocean conservation, including through expanded public engagement, but we will do so without the display of whales or dolphins at the Vancouver Aquarium."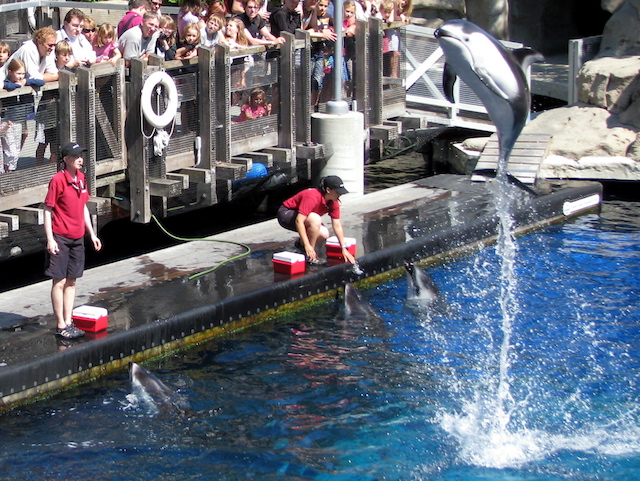 The message was clear and it's been pouring across social media since its release within this last hour. Here is more from the Vancouver Aquarium's own blog post:
Despite independent polling, year over year, that clearly shows overwhelming support for our cetacean program, we have made the difficult decision to no longer display cetaceans at Vancouver Aquarium, with the exception of doing what is best for Helen and any need to use the Aquarium for the temporary accommodation of a rescued cetacean. Moving forward, we will focus on raising awareness of the many ocean issues impacting other vulnerable marine animals.
Helen is the Pacific white-sided dolphin who is the only cetacean currently living at the Aquarium.
Believed to be in her early 30s, Helen is considered a senior-aged dolphin. She arrived at the Aquarium in 2005 after her rescue and rehabilitation from entanglement in a fishing net in Japan. After many years in professional care and with only partial flippers, Helen is not a candidate for release. However, dolphins are a social species so finding companionship for her is paramount. Unfortunately, decisions about her future are complicated, with options limited at this time by her age, Vancouver Park Board legislation, the outcome of court challenges and the long processes of obtaining international permits.
The Vancouver Aquarium Marine Mammal Rescue Centre — the only marine mammal hospital of its kind in Canada — will continue to rescue and rehabilitate animals in need, including whales or dolphins.
You can read the full blog post here, and follow the Vancouver Aquarium on Facebook and Twitter for the latest news and updates.